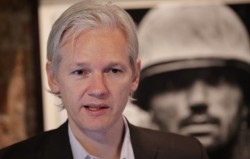 The WikiLeaks leak, and its ramifications for both journalism and military security continued to be debated in the aftermath of Sunday's dump. Buried in some of the larger questions about responsible reporting (hundreds of Afghan informants names were reportedly made available by the leak, endangering their lives), and the death of secrecy, is a short anecdote regarding web etiquette. WikiLeaks head Julian Assange is angry that, among other things, the New York Times did not link to his site in their mammoth report.
The complaint caught my eye because it's something the Times has been taken to task for in the past (for much, much smaller stories). This time however the non-linking was very, very intentional. Here's what NYT managing editor Bill Keller told the Daily Beast:
As I read his remarks, his complaint is that The Times — in a note to readers explaining how we handled the secret archive — made a point of saying that we did not link to the material posted by WikiLeaks. Since we normally do link to source data that we have used in our stories, we thought readers were entitled to know that the absence of a link was intentional, not some oversight, and to know the reason for it.

In our own publication, in print and on our website, we were careful to remove anything that could put lives at risk. We could not be sure that the trove posted on WikiLeaks, even with some 15,000 documents held back, would not endanger lives.
Assange is also angry that the Times felt it necessary to notify the government of the story (which is the established practice when national security is at stake) and also confirm some facts with them. The whole argument is a bit of a Catch 22 2.0. WikiLeaks wanted the NYT stamp (and the Guardian, and Der Spiegel) of approval to give their report both credibility, readability, and headline making oomph. The NYT was only willing to put that stamp on specific parts, thereby retaining their own credibility, which WikiLeaks is continuing to benefit from. If you want to know what the new media is going to look like for the next while, this is it.
Have a tip we should know? tips@mediaite.com