Justin Bieber To Minnesota Senator: Go To Jail, Do Not Pass Go, Do Not Collect $200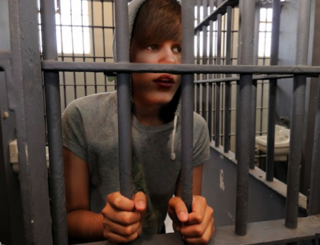 As Justin Bieber, the pop confection who made "Blagojevich hair" look cool, inches ever so close to adulthood, he will yearn to participate in that sort of depraved activity that leaves most adults who indulge it morally bankrupt: politics. And as he discovers this political identity within him, he will begin to say polarizing things like "I don't really believe in abortion" and "there are some senators who should really be in jail." This time, Bieber is in hot water for expressing the latter sentiment– against, of all people, Minnesota Senator Amy Klobuchar.
It is completely unclear whether Bieber knew exactly who he was talking about, as his comment does not name her. In fact, it's a pretty sure bet that Bieber has no idea who he is trying to get arrested, as he initially said of Sen. Klobuchar, "that guy needs to be locked up," followed by "whoever she is, she needs to know that I'm saying she needs to be locked up." She needs to know! These kids today and their sense of entitlement.
RELATED: S.978 Panic: Is Justin Bieber Going To Jail? (In A Word: No)
Sen. Klobuchar, a Democrat, introduced a bill that would make "unauthorized web streaming of copyrighted content a felony with a possible penalty of up to 5 years in prison." Some have interpreted this to mean that anyone covering copyrighted songs on YouTube would be vulnerable to serve jail time, and as this happens to be precisely the way Bieber got his record deal and became a media darling, he may have just been trying to turn the tables on the Senator for trying to send him to jail, as far as he and his fans understood the Senate bill. The idea that the bill would somehow mean Bieber would go to jail has been since debunked.
RELATED: Justin Bieber: "I Don't Really Believe In Abortion"
So with this thoroughly unexpected foray into the political realm a comical flop, only one question remains: how long until Justin Bieber (despite being Canadian-born) becomes the 2012 Republican frontrunner for a week? Stranger things have happened.
The audio of Bieber political rant via Hot 99.5 below:



[Photo via]
This is an opinion piece. The views expressed in this article are those of just the author.