'Kaepernick Weeps For His Idol': Mike Huckabee Lashes Out at Football Player Over Castro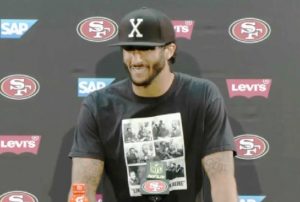 Following announcement of longtime Cuban ruler Fidel Castro's death, we saw a number of different reactions from the America political arena. President-elect Donald Trump released a statement detailing Castro's brutality while seemingly celebrating his death on Twitter. President Barack Obama went with a more measured public comment, offering condolences and extending a "hand of friendship" to the Cuban people.
One former governor and one-time presidential candidate used the opportunity to criticize a football player over his fashion choices.
For background, during a conference call with members of the South Florida media this week as the San Francisco 49ers are visiting the Miami Dolphins, quarterback Colin Kaepernick was asked about a t-shirt he wore in August that showed Castro and Malcolm X meeting. After Kaep initially said the shirt was about supporting Malcolm X, but then eventually offered up some praise for Castro.
"One thing that Fidel Castro did do is they have the highest literacy rate because they invest more in their education system than they do in their prison system," Kaepernick said, "which we do not do here, even though we're fully capable of doing that."
Of course, with this all coming right before Castro's death was announced, it was still fresh in the mind of many, including Mike Huckabee.
Castro dead;C Kaepernick weeps for his idol; wipes tears w/ US flag; stands at attention with hand over heart for Castro. I'll take a knee.

— Gov. Mike Huckabee (@GovMikeHuckabee) November 26, 2016
Of course, Huckabee is not just referring to Kaepernick's praiseworthy words for Castro, but also to the QB's decision not to stand for the national anthem over what he says is due to the country's mistreatment of minorities.
This also isn't the first time Huck as slammed Kaepernick. In early September while the national anthem flap was at its loudest, Huckabee labeled Kaepernick an "arrogant fool."
[image via screengrab]
–
Follow Justin Baragona on Twitter: @justinbaragona
Have a tip we should know? tips@mediaite.com