Keith Olbermann Slams "Inexplicable" Way Rick Sanchez Started His Show Last Night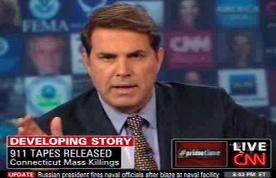 Keith Olbermann kicked off Countdown on MSNBC last night with a segment about the anti-Prop 8 ruling in California, while CNN's Rick Sanchez started Rick's List at 8pmET discussing the latest in the Connecticut workplace shooting.
This was a decision Olbermann didn't understand – which he expressed, on Twitter, while his show was still on air.
Sometime early in the 8pmET hour, Olbermann tweeted:
I happen to like Rick Sanchez, I worked with him. But how CNN could begin with the Connecticut shooting, bad as it was, is inexplicable
It's not surprising Olbermann was tuned into the competition. All cable news hosts surely knew what the others are leading with, since TVs are in each studio. But a live editorial dispute between competitors during their respective shows? That was rare – and only really possible in the Twitter Age of media.
Sanchez actually led his show by saying, "As we begin this newscast, I want to get you to California. We've got some video coming in now that details what some of the reaction is out there and there has been a bevy of it." He played some video, but the first segment was about the shooting. Over the next half hour he mentioned the Prop 8 ruling several times (including using the Twitterboard), but didn't have a segment about the decision until 8:38pmET.
Meanwhile the #1 cable news show at 8pmET, Bill O'Reilly's on Fox News, was leading with something entirely different – "an amazing story that you most likely will see nowhere else but The Factor." He spent his Talking Points praising the "effective" strategy of "patriots" Leon Panetta and Pres. Barack Obama and attacked the ACLU for trying to represent an American citizen who has been designated a terrorist. This was followed by the contentious, but calm, O'Reilly debate with defense attorney Scott Fenstermaker. O'Reilly didn't address Prop 8 – but his show tapes during the 5pmET hour (and the ruling came down at the end of the 4pmET hour). Update: O'Reilly mentioned the ruling, but said there would be more coming during Thursday's show.
—–
» Follow Steve Krakauer on Twitter
Have a tip we should know? tips@mediaite.com