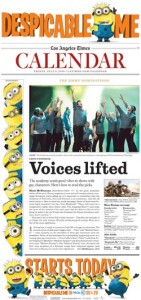 Universal Studios and the Los Angeles Times have butted heads, according TheWrap. Over what? The movie Despicable Me. The newspaper published a negative review of the movie the same day the ran a massive ad for the movie — much to the studio's discontent.
The ad covered most of the newspaper's Calendar page. The Times review called the movie more "exasperating than entertaining." From TheWrap:
Universal essentially felt it was punk'd by the Times, having been courted to buy a costly and controversial form of ad that appeared on Friday, July 9, accounts provided by people close to both sides say.

In fact, the dispute was so fraught that Universal initially considered stiffing the newspaper for the ad — which likely cost $100,000 or more based on the rate for at least one similar ad, one of the individuals told TheWrap.
According to "individuals close to the matter," studio head Ron Meyer "hit the roof" and the studio threatened to withhold payment. But Eddie Egan, Universal's president of marketing, denies this:
[Egan] denied that the studio ever balked at paying for the ad and says it has, in fact, been satisfied. A spokesperson for The Times says the newspaper expects to be paid. "We have no reason to believe, nor has Universal indicated, that they would not pay for the opening day 'Despicable Me' ad," a spokesperson for the Times told TheWrap.
The matter brings up the issue of advertising that blurs the line. Should advertising have any influence on editorial content? In a strictly journalistic sense, no. It should not. But it would be naive to think content is not at all affected by advertising. Nonetheless, Times spokesperson Nancy Sullivan supports the separation:
"Our relationship with Universal … follows the (longstanding) hard and fast rule that there is a separation between church and state," Nancy Sullivan, Times spokesperson, emailed TheWrap. "Advertising does not dictate the timing of editorial coverage, something about which we — at times — find ourselves 'agreeing to disagree' about [with advertisers]."
During financially trying times for print media, it's easy to let advertisers gain influence, but Sullivan makes a staunch argument that's hard to refute.
Have a tip we should know? tips@mediaite.com