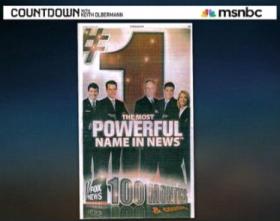 Fox News just hit 100 months as the top cable news channel, and they're doing a victory lap of sorts with some ads touting their success.
Leave it to MSNBC's Keith Olbermann to rain on the parade.
The full-page ads from Fox News feature Bill O'Reilly, Sean Hannity, Greta Van Susteren, Bret Baier and Shepard Smith with the slogan "the most powerful name in news." They ran yesterday in the Wall Street Journal and Washington Post.
Olbermann saw it as an opportunity to knock the network, giving the PR department (actually, it was the marketing department that would be the culprit though) the bronze Worst for leaving out the #2 cable news host, Glenn Beck. "Hey don't give me that, 'they don't claim he's news,'" he said. "They don't claim O'Reilly's news, or Hannity. Murdoch himself said that. They left Beck out. Now he's going to start crying again."
Well – don't shed a tear yet, Glenn. We hear this ad was the first in a series of full-page ads, with the next featuring Megyn Kelly, Shep Smith, Neil Cavuto and Beck. In other words, the ad yesterday was the 6-11pmET line-up – the next one will be the 1-6pmET line-up. Fox & Friends will get their own, as will the 9am-1pmET team of Bill Hemmer, Martha MacCallum, Jon Scott and Jane Skinner. It's not like every hour isn't dominating cable news anyway – now everyone gets their bragging rights!
Here's the Worst clip:


—–
» Follow Steve Krakauer on Twitter
Have a tip we should know? tips@mediaite.com