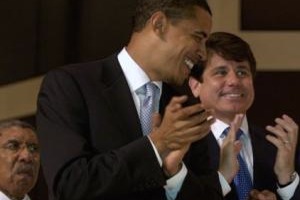 The defense in United States v. Rod Blagojevich just received the devastating news from the federal judge in the case that their request to subpoena President Barack Obama to testify in favor of the former governor has been denied. For media insiders and lovers of the political circus, it's a sad day in America.
According to the AP, US District Judge James Zagel did not see sufficient evidence that proved the President was relevant enough to the case to be forced to testify. The Rod Blagojevich legal team presented several pages of evidence based on taped conversations still not released to the public in which a number of staffers, union officials, and supporters close to the president suggested that Obama had preferences as to who filled the seat. The most explosive accusation in the subpoena was that an Obama staffer had offered Blagojevich "fundraising" in exchange for the appointment of a certain senate candidate to the seat— all of which we know because the defense team failed to adequately hide the redacted portions of the subpoena request.
There is no indication that the involuntary breaking of court protocol had anything to do with the decision, although it comes at an inopportune time as former Blagojevich aide Alonzo Monk plead guilty today, again, to attempting to trade legislation for campaign contributions with a horce-racing insider.
While, by nature of Blagojevich's personality alone, the trial will be nothing short of a spectacle, the lack of a presidential presence does strike a blow to the potential entertainment value, especially if cable news broadcasters were able to get a hold of trial footage and the president's testimony. With Obama out of the picture, so is a significant chunk of a potential news cycle, along with it's blockbuster ratings/website hits and, in turn, revenue.
This sentiment has been most succinctly captured by National Review's "The Corner," where Daniel Foster takes all his anger at being deprived of an Obama testimony out on "noted curmudgeon" James Zagel:
The killjoy Chicago federal judge presiding over ex-Gov. Rod Blagojevich's corruption trial has decided to spoil my day by denying Blago's request to subpoena President Obama as a witness.

"The testimony of the president is not material to this case," U.S. District Judge and noted curmudgeon James Zagel said today in issuing the ruling.
Have a tip we should know? tips@mediaite.com