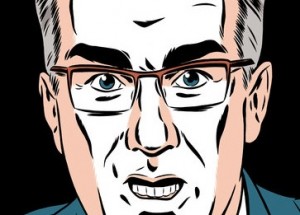 Writing for the paper's magazine, The New York Times' David Carr has today given us an in-depth look into the rise and… we'll say side-step, not fall… and possible rise once again of everyone's favorite liberal talking head, Keith Olbermann.
The profile, titled "America's Favorite Talking Hot Head," colorfully reiterates a lot of what we've already known about Olbermann: He loves to be on camera. He has something of a temper. And he firmly believes his own hype.
But Carr is regarded as one of the most insightful media writers of our age, and is well known for finding the most insightful bon mots that illustrates his subjects true character. In that spirit, we've gathered a few of the most illuminating, delightful, horrifying and telling anecdotes and details from the piece for your perusing pleasure:
Olbermann likes being on camera.
At a Mets-Yankee game this past May, Olbermann pleaded with Carr to switch seats with him so that Olbermann could be in Fox Sports' shot of the home plate. "It's fun to mess with them," he explained.
Olbermann's recent foot fracture, which was ridiculed by the New York Post, was the result of running in Vibram FiveFingers shoes.
There were times when an enraged Olbermann's higher ups at MSNBC would have to "talk him off the ledge" and convince him to take his Town Car to work that day, with substitute hosts lined up just in case he didn't.
Olbermann is not afraid of Derek Jeter:

"Look at that slugging percentage," he said. "It's terrible. Awful." I pointed out to Olbermann that Jeter was just a few feet away, well within earshot."He knows what I think of him," he said, giving a whatever wave with the cane without looking up from his scorecard.
Olbermann likes being on camera.
Olbermann writes the great bulk of his show material himself, typing with one finger.
Current TV may have found the solution to dealing with Olbermann's historic and notorious tendency to create a difficult working environment by effectively making him the head honcho of his own program, where he's been in charge of every hire.
Olbermann and Bill O'Reilly spend lots of ballgames staring at one another:

Olbermann is enough of a student of sports to know that you can't really lose punching up, although he comes by his animus for O'Reilly honestly. "I've seen him here at Yankee Stadium, and every time I looked in his direction, he was looking at me and immediately looked away," he said. "What I can't stand about him is that he never, ever says he is wrong. He is slower in correcting his mistakes than the Catholic Church was in acknowledging they got it wrong about Galileo."
Olbermann seriously likes being on camera.
By all means, please do yourself a favor and read the entire piece on NYT.com.
Image via Kristian Hammerstad
Have a tip we should know? tips@mediaite.com