This Exists: Canadian Family Returns From Vacation To Find Their Front Lawn Stolen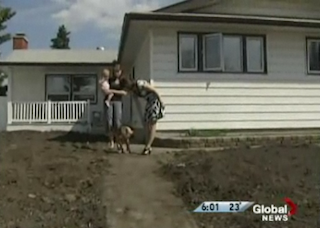 It happens all the time. You go away on a nice vacation only to return and discover that you've been robbed. Your TV is missing. Maybe they got your computer. Or, in the case of the Thompson family in Edmonton, Canada, the thieves have stolen something different; your entire front lawn.
That's right. After Denise Thompson returned from a trip to visit her husband for the weekend, they found their previously lush, green lawn replaced by nothing but dirt. There was no explanation. When Thompson asked neighbors, they said a white van and trailer had been seen by her yard.
Thompson then hit the local news, asking for the culprit to step forward and, eventually, they finally did.
From the Daily Mail:
"On Monday evening Mrs Thompson found a note on her front door from an embarrassed Patrick Kukanu, owner of Kupak Landscapes Ltd, explaining what had happened.

He explained in the note that on Saturday night he went to check on how his work crew were coming along with the job. Then he realised they had got the wrong house.

Mr Kukanu said: 'We just want to say to Denise we are sorry, it's a mistake.

He has offered to have a crew replace the grass as soon as they can.

Mrs Thompson admits she was angry initially, but ended up relieved by Kukanu's sincere apology and offer to make things right."
Darn! I mean, it's good she figured out what happened and all, but this plausible explanation completely ruins my plans for a series of crime novels set in the seedy and dangerous underworld of the lawn black market. It was gonna be called Red Hand, Green Thumb and it was gonna be awesome!
Watch the news report on the odd crime from Fox 25 in Boston below. A longer video with interviews with Thompson (filmed before Kukanu confessed) from Global Edmonton can be found here.
Have a tip we should know? tips@mediaite.com