Koch Dealing: AFP 1st To Viral Vid Of Arkansas Dem Saying N-Word 'Sounds Like Racism'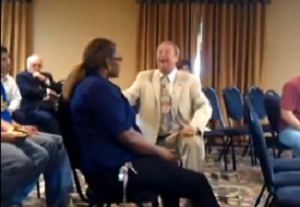 There's a disturbingly comical video, making the rounds of the right-wing blogosphere, in which Arkansas State Senator Gene Jeffress relating a shocking story to a small Tea Party crowd, about a woman telling him she opposed Obamacare because she didn't "want to pay for no more n***er babies in Chicot County," which Jeffress then observes "sounds like" racism. To him.
While the video itself is cheap on several levels, its journey to you raises questions about the insidious effect of billionaire politics.
The video features Democratic State Senator Gene Jeffress of Arkansas working the "crowd" (in the finest "two's company" sense of the word) at a Tea Party event on May 29. Redstate's Caleb Howe describes it this way:
The above video shows Democrat State Senator Gene Jeffress, who is running for Congress in Arkansas against Republican Tom Cotton, answering a question about healthcare. The first weird thing Jeffres did was get down on his knees in front of a woman, like maybe he was going to whisper the secret 11 herbs and spices to her. The second weird thing he did was assert that Germany has provided for the healthcare of their citizens for "centuries". No wait, sorry. The first weird thing he did was to choose to wear that suit.

Then he told a story. A story about a woman who stood up and told him that "Senator, I don't want to pay for no more n*gger babies." About which our courageous civil rights leader stated "You know what that really sounds to me like? Racism."
Here's the video, via YouTube:
It's true that Jeffress is wearing a suit that would seem to better qualify him for a seat with the congressional caucus from Fantasy Island, and his presentation is so ham-fisted that it ought to come with a trichinosis warning, both of which undermine his legitimate underlying point, that opposition to health care reform is largely about protecting privilege by denying other people's basic human rights. If you want to laugh at state Sen. Jeffress, fair enough, but the obviousness of his observation is the other side of the coin that is conservatism's denial of even the most blatant racism, as long as there's no n-word, and even then, only maybe.
Regardless of how you feel about this video, though, the trail it took to get to you is instructive. I first saw the video on Redstate, where my friend Caleb Howe drew chortles from the right-wing Twitterati by calling Sen. Jeffress "Foghorn Leghorn." (I guess they were relieved to be laughing about someone else being called a chickenhawk.)
However, the video was first embedded to a website called TalkBusiness.net, where that site's Jason Tolbert reported that they had "obtained" the video, without attribution. That's not all that unusual on a blog, where, when someone offers you a hot tip in exchange for not saying where you got it (even if where you got it is the bigger story), it's tough to say no.
What's interesting is that the first two people to tweet about the Jeffress video have something in common, and began tweeting about it hours before Tolbert's story was published. The first was Elizabeth Aymond, who tweeted "After watching a video of #AR#CD4 candidate GeneJeffress drop the *N* word I didn't think anything else would surprise me today. Wrong," and the second was Teresa Oelke, who said "Unacceptable @aymond: After watching a video of #AR #CD4candidate Gene Jeffress drop the *N* word….Wrong."
Additionally, when asked by another conservative blogger to provide a link for the video, Aymond responded "I texted you some info. Still have the same number?"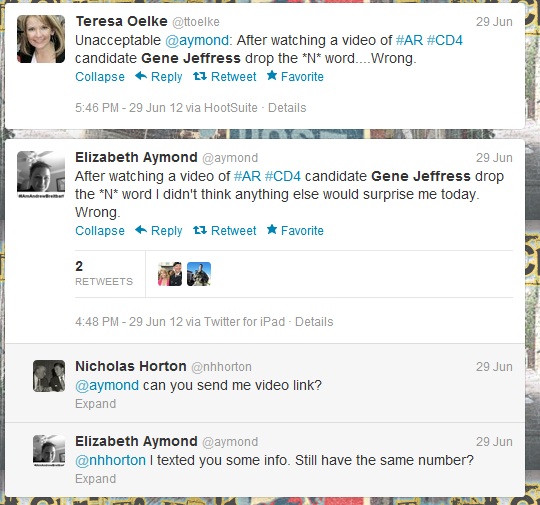 Elizabeth Aymond's Twitter bio says she "works w/ Americans For Prosperity," the Koch Brothers-financed SuperPAC, while Teresa Oelke is a regional VP and Arkansas State Director for AFP. Americans For Prosperity has not returned requests for comment about the video.
There's nothing particularly underhanded about using campaign videos like this to discredit a candidate, but SuperPACs like American Bridge do it out in the open, they're up front about their use of video trackers. That someone fed this video to Jason Tolbert, and didn't want you to know it, begs the question "why?"
It's disturbing enough that a handful of billionaires are trying to buy this presidential election for Mitt Romney, but when billionaires like the Koch Brothers are showing this type of interest in a congressional race, where much smaller sums can make a huge difference, what chance does an ordinary (cream-suited or not) candidate have?
Follow Tommy Christopher (@TommyXtopher) on Twitter.
Have a tip we should know? tips@mediaite.com