Liberal Radio Host's Anti-Rush Limbaugh Tirade: 'He Would Destroy Children' And 'Open Gas Chambers'
Liberal Radio Host: Limbaugh 'Would Destroy Children' And 'Open Gas Chambers'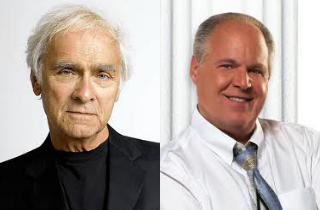 Late last week, progressive radio host Mike Malloy did not mince words when describing conservative rival Rush Limbaugh.
While going after the conservative host, Malloy said, "This son of a bitch personifies — if ever evil could be rolled into a huge fat mass, this is it!"
He continued on to say that if Limbaugh ever achieved power, he'd reign like a totalitarian dictator of the worst kid: "This guy, this Limbaugh, this is one of the most vile human beings ever to live! If Limbaugh had the power he would open gas chambers! If Limbaugh had the power, he would line up people up against the wall and execute them!"
The self-syndicated radio host then asserted that Limbaugh might be a pedophile: "If Limbaugh had the power, he would destroy children because he can't have any! The only thing he sees in children is sex partners! This is a sick, evil, degenerate man!"
– RELATED: Limbaugh Goes Off On Media For Lack Of Outrage Over Bob Schieffer's Nazi/Gun Lobby Comment
Malloy is a self-described "Liberal Democrat" who made his name as one of the original hosts on Air America Radio. After that stint ended in what he described as a "trainwreck," Malloy went on to national syndication and eventual self-syndication along with satellite radio broadcasting.
"Why is he on the air?" Malloy wondered about Limbaugh. "This is not First Amendment protected speech! This son of a bitch is evil, rotten to the core."
"I know, and you know, that eventually Limbaugh will say whatever he comes up with," Malloy concluded. "I don't know how he can get any worse than this. But somebody someplace is going to listen to him and that'll be it! Unbelievable."
Listen below:
[h/t TheBlaze]
— —
>> Follow Andrew Kirell (@AndrewKirell) on Twitter
Have a tip we should know? tips@mediaite.com