Rush Limbaugh Hits Back At NBC's Brian Williams: 'Have You Watched Your Network Lately?'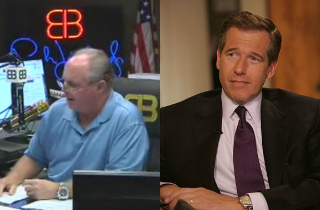 On his syndicated radio show this afternoon, conservative host Rush Limbaugh hit back at NBC's Rock Center anchor Brian Williams for scorning him on-air last night over the radio host's comments that New Jersey Gov. Chris Christie acted as a "Greek column" for President Obama in the aftermath of Hurricane Sandy.
In the closing monologue of his Thursday night NBC broadcast, Williams said: "After all this loss you might be curious as to why Rush Limbaugh went after Gov. Christie today. It was because he was getting along so well with the president, working together, saying nice things about Barack Obama."
He took an additional stab: "Just when we think the storm wiped away everything, we learned politics survived."
In response, an astonished Limbaugh said, "I thought Brian Williams liked me. Apparently not anymore," before attacking the NBC anchor for "living a cloistered life" and misunderstanding why, exactly, he was dissatisfied with Gov. Christie's visit from the president.
Later in the program, Limbaugh continued to lament that Williams "used to like me," but "something happened at NBC" and now Williams "rakes me over the coals."
Egged on by listener emails, Limbaugh then tore into Williams and NBC over what he perceives to be their lack of Benghazi coverage:
Let me ask you: Have you watched your network lately? Have you watched your sister or brother network, MSNBC, lately? You guys have your own mess to clean up there. Because you and your colleagues, you're not only destroying news and journalism in this country, you're not even doing your job. Does Benghazi ring a bell to anyone at NBC? Does the name mean anything? I know it's not as cool as Iran-Contra or Watergate or Katrina — those all involve Republicans. But you know, Brian, four Americans died, as it turns out, unnecessarily. They were murdered. And people were trying to get answers, and NBC doesn't care. NBC is helping to cover it up.
Listen below:

[h/t
Daily Rushbo
]
— —
>>
Follow Andrew Kirell (@AndrewKirell) on Twitter
Have a tip we should know? tips@mediaite.com