Limbaugh: Liberals Doing Whatever They Can to Blame Conservatives for Charleston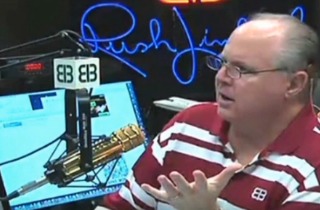 Following the shooting at a church in Charleston that left 9 people dead, various political personalities and media outlets have tried to make sense of how and why the massacre happened.
Attention has gone in particular towards the possibility that Dylann Roof was motivated by racism, pointing to statements from those who knew him, as well as when he said that African-Americans were "raping our women" and "taking over our country." inside the church. Some have also tried to spin the story around to say that Roof was trying to target Christians, while others have spoken about whether the government should enact tougher laws in order to counteract violence and gun culture.
As for Rush Limbaugh, he said during his show on Friday that every time a major act of violent crime occurs, liberals are always using media discussion as a way to their "agenda" while making conservatives look bad. "Here's Hillary now blaming Trump, and by association talk radio, for what happened in Charleston, South Carolina," said Limbaugh. "And yet, every time they try to establish this connection, there isn't one. There really isn't a connection between prominent conservative media and any of these horrible public crimes.
"There isn't a conservative link, most often whats been found is a kid, mind-fried on some kind of psych drug. Vast majority of cases it's been that."
Limbaugh also took shots at Southern Poverty Law Center's editor-in-chief, Mark Potok, calling the SPLC a hate group and Potok, a conservative hate-mongerer. He concluded by alleging that criminal incidents perpetrated by members of liberal organizations and special interest groups are ignored by the media.
"As hard as the media looks, they seldom find this magical-right-wing connection that they will be able to use to eliminate conservative media."
Listen to the show below, via The Rush Limbaugh Show:
[Image via Screengrab]
— —
>> Follow Ken Meyer (@KenMeyer91) on Twitter
Have a tip we should know? tips@mediaite.com