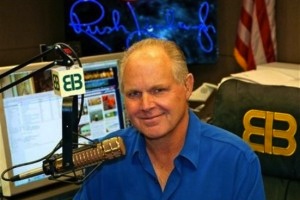 Conservative radio host Rush Limbaugh attacked the Obama campaign's recently released ads that feature actress Sarah Jessica Parker and Vogue Magazine Editor Anna Wintour. Limbaugh called the President's celebrity outreach a sign of "how distant they have become" from average voters and how Obama himself is becoming "Barack Hussein Kardashian."

RELATED: Obama Campaign Debuts Sarah Jessica Parker Ad During MTV Movie Awards
"Here's a man of the people," Limbaugh said of Obama. "Here's a man that's talking every day to the unemployed, underemployed claiming that that's who he cares about."
Limbaugh said that there could be "no greater illustration" of who supports Obama's reelection bid than the ads featuring Wintour and Parker.
Parker's ad aired on MTV during the Music Video Awards. A follow up web ad released by the Obama campaign features Wintour asking Obama supporters to register for the opportunity to have dinner with President Obama and First Lady Michelle Obama at Parker's home.
"This whole thing is a fraud," Limbaugh continued. "Anna Wintour doesn't want to meet these people. She's not interested in what they have to think. Neither is Obama or Michelle or Sarah Jessica."
This is celebrity of the United States kind of stuff. Everybody is now laughing at this stuff and mocking it and making fun of it and poking holes at it – just like we are here. It's an indication, once again, how out of touch they really are. How distant they have become from the people who really make this country work. It's an indication of what they think the strong drawing power of the presidency is.
Limbaugh went on to say that Obama is drifting into celebrity status, and invoked reality television star Kim Kardashian to illustrate his point.
"He's becoming Barack Kardashian," said Limbaugh. He is becoming the male Kim Kardashian with this stuff – and it's been building."
"Barack Hussein Kardashian is what he's become," Limbaugh concluded.
Listen to the segment below via The Rush Limbaugh Radio Show:
h/t Daily Rushbo
Follow Noah Rothman on Twitter
Have a tip we should know? tips@mediaite.com