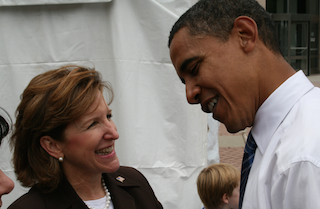 For the last several weeks and months, Sen. Kay Hagan (D-NC) has been trying her best to distance herself from President Barack Obama, recently refusing to say whether she believes he is a "strong leader." But, now, with just hours to go before Election Day, Hagan's campaign has put out a radio ad that uses Obama's endorsement as its centerpiece.
Below is the full text of Obama's message in the ad, which is followed by the requisite approval from Hagan herself:
"North Carolina, we need to send a message this election. If you want to make a difference, here is your chance: Vote for Democrats and Sen. Kay Hagan on November 4th. You know Kay Hagan has been tirelessly creating job opportunities here at home and supporting a higher minimum wage. But Republicans have been cutting investments in education while protecting tax breaks for the wealthy, so let's send them a message by voting for someone who shares our priorities. Voting is easy, so stand with me, President Obama, and take responsibility in moving North Carolina forward by voting for Kay Hagan on November 4th. A Senator you can count on."
Recent polls have shown Hagan and Republican opponent Thom Tillis locked in a near-dead heat. But as of Monday, forecasters are predicting an estimated 70% of victory for the Democrat. With no time left to convince undecided voters, Hagan has evidently decided she might as well lean on Obama to get out the vote among her supporters.
Listen to audio of the ad below:
[Photo via thomtillis.com]
— —
>> Follow Matt Wilstein (@TheMattWilstein) on Twitter
Have a tip we should know? tips@mediaite.com