Local Lawyer Admits to Putting 'Exclusively for White People' Stickers on Austin Stores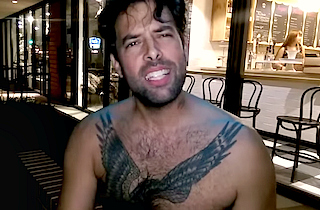 Last week, Mediaite reported on the "Exclusively for White People" stickers that showed up on a variety of east side Austin shops. Though denounced by lawmakers as racist, many suspected the stickers were something between a prank on, and protest over, the gentrifying stores that have invaded east Austin in the last decade.
This latter theory was apparently vindicated when activist lawyer Adam Reposa (his website, DWIBadass, is worth a whirl) admitted on his Facebook wall several days ago to having affixed the stickers in a self-termed act of "culture jamming":

Reposa somewhat explained his motivations in a shirtless video that appears to have been filmed before one of the offending businesses; he argued that people should apply The Technology, never quite defined, to prod others into "not giving a fuck" (about the economic demands that spur gentrification).
"Pretty quick, this area of town is turning into whites only, not by law like it used to be," Reposa said. "Everyone's gonna jump on 'That's racist!' Man, this town, the way shit works, is racist. And I knew I could bait y'all into being as stupid as you are, just by allowing the issue to be framed in the most simple way: 'Oh, he said an offensive term. Let's not worry about the actual condition of the way things are.'"
He then proceeded to mock the largely clueless coverage of his antics, which snookered the city's mayor and state Rep. Dawna Dukes: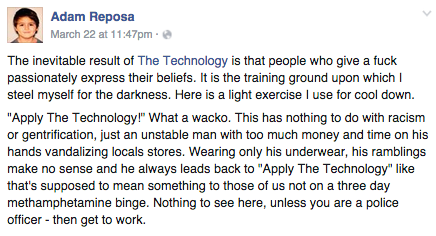 Though Reposa's stunt certainly appears to to be a Batman-level application of the Keep Austin Weird, it was also criticized for poor and counterintuitive messaging.
Watch the video below, via Adam Reposa. * Warning, graphic language *:
[h/t KXAN]
[Image via screengrab]
——
>> Follow Evan McMurry (@evanmcmurry) on Twitter
Have a tip we should know? tips@mediaite.com