Man Arrested For JCC Bomb Threats Was Liberal Journalist Fired For Fabrication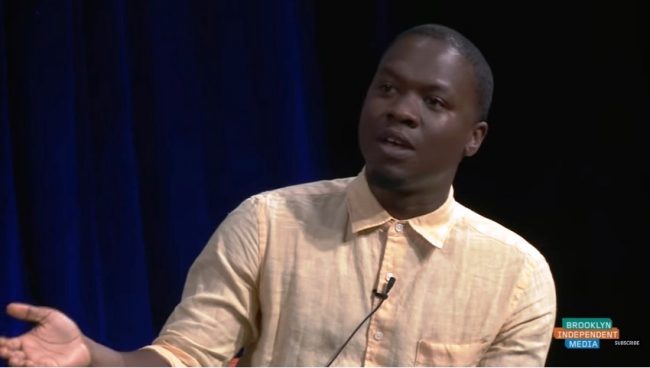 Juan Thompson, the St. Louis native arrested for making bomb threats against Jewish centers, used to write at left-wing website The Intercept before being fired for fabrication.
Here's Mediaite's report on his firing a year ago.
News website The Intercept issued a mass retraction and correction Tuesday after admitting that one of their writers regularly fabricated sources and impersonated sources with fake Gmail accounts.

"An investigation into [Juan Thompson]'s reporting turned up three instances in which quotes were attributed to people who said they had not been interviewed. In other instances, quotes were attributed to individuals we could not reach, who could not remember speaking with him, or whose identities could not be confirmed," Editor-in-chief Betsy Reed announced in a note to readers.
The authorities have not come out and said the two Juan Thompsons are the same, but tweets from the former journalist makes it clear they are. The FBI alleges Thompson made the threats in an attempt to frame his ex-girlfriend, while Thompson's tweets suggest the same.
Know any good lawyers? Need to stop this nasty/racist #whitegirl I dated who sent a bomb threat in my name & wants me to be raped in jail. pic.twitter.com/B1IU0RkNCZ

— Juan M. Thompson (@JuanMThompson) February 24, 2017
The @SecretService visited me looked at my tweets, questioned my politics b/c some awful white woman I date reported me. I won't be silenced

— Juan M. Thompson (@JuanMThompson) February 27, 2017
In addition, an article filed shortly after Thompson's firing indicated he was from St. Louis.
UPDATE (11:11 AM ET): The Intercept confirmed in a statement that Thompson is a former employee, and denounced his actions.
Statement from @theintercept below:

"We were horrified to learn this morning that..a former employee…"https://t.co/IpLrcfdvV4 pic.twitter.com/A5Bq7gAvSF

— Tom Namako (@TomNamako) March 3, 2017
[Image via screengrab]
—
>>Follow Alex Griswold (@HashtagGriswold) on Twitter
Have a tip we should know? tips@mediaite.com