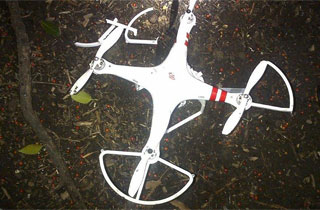 The pilot of a drone that crashed on the White House grounds, causing mass panic, happens to be the best kind of person who would crash a drone into the White House: An inebriated federal employee who works for an intelligence agency that makes maps.
According to the New York Times, the unnamed man, an employee at the National Geospatial-Intelligence Agency (NGA), had a few drinks on Sunday night at a friend's apartment and decided that being a lil giddy at 3 a.m. was the perfect time to fly his friend's quadcopter drone around for a bit. However, he lost control of the drone, "perhaps by the wind or a tree," and frantically texted his friends that the drone might have crashed on the White House grounds.
He then fell asleep at home, only to wake up on Monday to his friends telling him that the drone had caused a miniature national security meltdown. He soon turned himself in to the Secret Service.
The NGA is one of the lesser-known American intelligence agencies, and their primary function is to spy on people from giant satellites:
The geospatial-intelligence agency, with headquarters near Springfield, Va., employs satellites to gather data for the military and other agencies by using imagery to detect human activity and to map out changes in physical features on the ground. The website for the agency cites the discovery of "atrocities in Kosovo," support for intelligence operations during the Olympics and assistance responding to Hurricane Katrina.
A spokesman for the NGA said they were looking into the incident, but declined to say whether the employee would be disciplined for doing his job while tipsy. (Okay, just kidding, the employee in question isn't involved in drones or unmanned aerial vehicle operations, but still.)
[h/t The Hill]
[Image via US Secret Service]
—
>> Follow Tina Nguyen (@Tina_Nguyen) on Twitter
Have a tip we should know? tips@mediaite.com