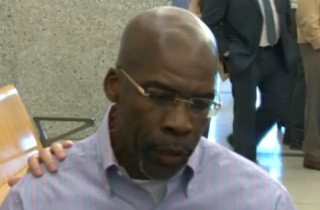 "We're suing everybody, let's be honest," Taylor Koss, attorney for Jonathan Fleming said back in April, when the 51 year old New York man was released from prison after serving 24 years for a murder he did not commit. Sure enough, they've made good on that premise this week, as they've announced they will sue the State of New York for $162 million.
Fleming was found guilty in the 1989 of murdering Darryl Rush, despite having long protested his innocence, and having a strong alibi that he was out of the state at the time of the murder. A recent review of the case by the Brooklyn district attorney's Conviction Review Unit uncovered a crucial piece of evidence that Fleming's lawyers say was purposefully withheld from the trial by police, a receipt in his pocket that showed he was in Florida with his family a few hours before the murder. An eye witness who placed Fleming at the scene of the crime later recanted her testimony after he was convicted, saying she had done so in a bargain for leniency with police on an unrelated crime.
In the course of the investigation, the Conviction Review Unit found the receipt in police records, time stamped and dated — solidifying Fleming's claim that he was in Florida at the time of the killing, according to the district attorney's office.

"This is proof of alibi that was basically purposely withheld," Koss said.

The review unit also interviewed Fleming's former girlfriend, who said she called Fleming the night of the killing while he was still at his hotel in Florida. The investigation found her story to be credible, with phone records to support it.
Another New York man, Derrick Deacon, who also served 25 years for a crime he was later exonerated for, is suing the state for $25 million. Back in March a Louisiana man was released from death row after 30 years for a crime he did not commit.
2013 saw a record number of wrongful convictions overturned, with 87 innocent people freed. The National Registry of Exonerations says there have been 1,300 similar cases since 1989.
Whether or not a person wrongfully convicted of a crime is entitled to compensation, or can sue the state, varies. In 24 states, no money is awarded. Even in states like New York, however, which are more forgiving in this regard, there are stipulations that make receiving a pay out difficult. For example, "The wrongfully convicted person must show 'he did not by his own conduct cause or bring about his conviction,'" which means that a person who falsely confessed may not be eligible. According to the Innocence Project, in 30% of DNA exoneration cases innocent people made incriminating statements, or pled guilty.
[Image via screengrab/CNN]
— —
>> Luke O'Neil is a journalist and blogger in Boston. Follow him on Twitter (@lukeoneil47).
Have a tip we should know? tips@mediaite.com