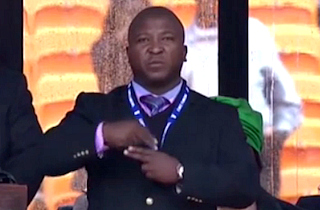 After multiple official sign language interpreters derided his signing as nonsense, the interpreter at Tuesday's Nelson Mandela memorial in Soweto, South Africa told the Associated Press that he had experienced a hallucinatory episode during the memorial, and described a history of mental illness and violence.
"What happened that day, I see angels come to the stadium," Thamsanqa Jantjie said. "I start realizing that the problem is here. And the problem, I don't know the attack of this problem, how will it come. Sometimes I get violent on that place. Sometimes I will see things chasing me."
"I was in a very difficult position," he continued. "And remember those people, the president and everyone, they were armed, there was armed police around me. If I start panicking I'll start being a problem. I have to deal with this in a manner so that I mustn't embarrass my country."
RELATED: NBC's Today Apologizes for 'Offensive' Sign Language Joke
Official interpreters called Jantjie a "fake" on Wednesday, saying that he had not been signing in any known sign language. Jantjie apologized for his performance, and told AP he suffers from schizophrenia, reported violent incidents in his past, had previously spent over a year in a mental institution.
The company that hired Jantjie declined to comment, and according to the USA Today, a South African cabinet member attempted to visit their offices only to find that the owners "have vanished into thin air."
[h/t AP]
[Image via screengrab]
——
>> Follow Evan McMurry (@evanmcmurry) on Twitter
Have a tip we should know? tips@mediaite.com