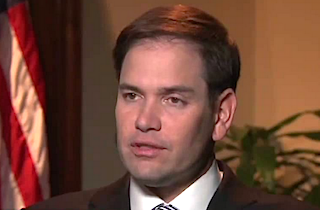 Sen. Marco Rubio (R-FL) has joined his fellow 2016 Republican presidential prospects by weighing in on the great vaccination debate. But unlike Gov. Chris Christie (R-NJ) and Sen. Rand Paul (R-KY), Rubio has unequivocally stated that "all children in American should be vaccinated."
In short remarks to reporters following a Foreign Relations Committee hearing on Cuba, Rubio answered "absolutely" when asked if children should be vaccinated for measles.
"This is the most advanced country in the world," Rubio said in comments reported by the Tampa Bay Times. "We have eradicated diseases that in the past killed and permanently disabled people. My own grandfather was disabled by polio as a young child."
"There is absolutely no medical science or data whatsoever that links those vaccinations to onset of autism or anything of that nature," he continued. "And by the way, if enough people are not vaccinated, you put at risk infants that are three months of age or younger and have not been vaccinated and you put at risk immune-suppressed children that are not able to get those vaccinations. So absolutely, all children in American should be vaccinated."
With his comments, Rubio aligns more closely with Dr. Ben Carson, who came out strongly on the side of mandatory vaccinations, than he did with Paul or Christie, who both suggested that there should be some level of parent "choice" in the matter.
He also appears to have the same position as possible 2016 Democratic candidate Hillary Clinton, who tweeted her thoughts on the matter Monday night with the hashtag #vaccineswork.
There is a contrast, however, between Rubio's concrete belief in the science of vaccines and his more skeptical comments about man-made climate change. "I'm not a scientist," he said in response to a question about the warming Earth in a 2012 interview.
Two years later, he doubled down on this position, telling George Stephanopoulos, "I don't agree with the notion that some are putting out there, including scientists, that somehow there are actions that we can take today that would have an impact on what's happening in our climate."
So, while Rubio is most definitely not a scientist, he apparently has no problem putting his faith in the science of vaccines.
[Photo via screengrab]
— —
>> Follow Matt Wilstein (@TheMattWilstein) on Twitter
Have a tip we should know? tips@mediaite.com