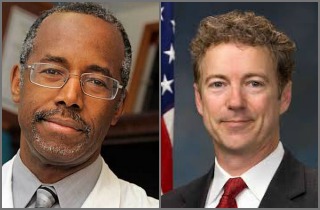 Pediatric neurosurgeon and likely GOP presidential candidate Dr. Ben Carson defended Sen. Rand Paul (R-KY) as having likely been "misunderstood" for comments made about vaccinations during a Monday TV interview.
To recap: Senator Paul, another likely presidential candidate, told CNBC anchor Kelly Evans in a contentious interview that he is a "big fan" of vaccines.
However, he emphasized, while he believes parents should vaccinate their children, he does not believe the government should make it mandatory. He also dropped a controversial line connecting "profound mental disorders" to children who've taken a vaccine.
Carson, on the other hand, has taken a more strident line: "Certain communicable diseases have been largely eradicated by immunization policies in this country and we should not allow those diseases to return by foregoing safe immunization programs, for philosophical, religious or other reasons when we have the means to eradicate them," he added.
When asked to comment Tuesday morning on the senator's remarks, Carson gave a slightly backhanded defense to Fox News radio host John Gibson:
I think he was misunderstood. If you really sat down and talk to him he would admit we made tremendous advances with vaccinations. I can't imagine advocating that people who are living amongst others in our society would simply allow disease to spread because they have a philosophical disagreement.
Carson warned that politicians like Sen. Paul and Gov. Chris Christie, who both agree that vaccines are a good thing, need to be careful when speaking about voluntary vaccinations: Tout the advancements in medical science, encourage parents to get their kids vaccinated, and "leave it at that."
Listen below, via Fox Radio:
— —
>> Follow Andrew Kirell (@AndrewKirell) on Twitter
Have a tip we should know? tips@mediaite.com