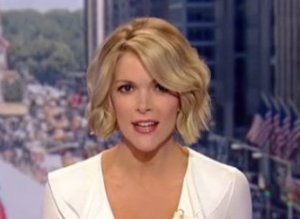 Fox News' Megyn Kelly, back to work following her maternity leave, took some time to speak with Marie Claire about a whole lot 'o stuff: the role her looks have played in her television career, Glenn Beck, Roger Ailes… and whether or not she believes her network is biased in its coverage.
Much of the interview — surprisingly hard-hitting for a profile in a fashion-oriented magazine — focuses on image. How does Kelly's image help or hurt her career? What image does Beck give off to viewers and detractors? …Does she agree with the perception of Fox News as a biased news source? In a word, "No."
No. Fox News covers stories that some other news outlets won't cover. We ask some questions that other news outlets wouldn't ask. And sometimes that's perceived as bias by people who've grown up in a world where there are only liberal outlets.
In her answers, Kelly does an incredibly fine job of remaining diplomatic and even-keeled while making her thoughts known. For example:
Marie Claire: I assume you believe in free speech. How do you feel about the fact that Sarah Palin doesn't talk to the press unless it's Fox News?

Megyn Kelly: Well, I don't know if the premise of the question is correct, because she has talked to other outlets. I think there are certain outlets she doesn't like. And I think she thinks she's been treated unfairly by people in the press.
And that, folks, is how you answer a question with professionalism! (I mean, seriously, like she'd ever say, "Yeah, that is certainly wack, isn't it? Such wackitude as I have never seen." Also… free speech?)
Other highlights from the interview include…
A rather sweet little anecdote about Fox News head Roger Ailes:

A couple years ago, I had a very bad stalking problem. I was living alone in D.C. In addition to security Fox provided me, Roger offered to pay out of his own pocket for special dead bolts throughout my home. It was just a small thing, but he didn't have to do it. I had a boss who cared, and it made me feel better.
Her reaction to Slate referring to her as a "postfeminist news babe:"

I don't like that term. It's pejorative. I don't know who wrote that article, but I'm gonna bet it was a guy.
Her thoughts on Beck:

If Fox had promoted Glenn Beck as a straight newsman who would be delivering the nightly update, like Bret Baier, then yes. But it was clear from the beginning — and it remains clear — that Glenn Beck is an opinion host. He doesn't report as a journalist and isn't making any attempt to be a journalist.
Why she likes Jon Stewart, he who recently accused her of "flip-flopping:"

I find Jon Stewart very funny — except for when he's making fun of me. [laughs] The problem with Stewart is when people think The Daily Show is actual news, or that he made an attempt to be fair, which I think he would freely admit that he doesn't.
And… Whether or not she'll take over Beck's slot:

It's not like I'm not going to consider it if they approach me. But it would require a lot of soul-searching because I really do like the setup I have now.
For more, do be sure to read the full interview at MarieClaire.com.
Have a tip we should know? tips@mediaite.com