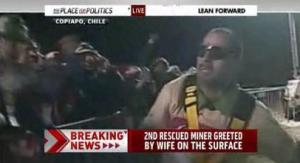 The Chilean miner rescue that began late last night and will continue all day today, has been an emotional, uplifting story – and the American media is all over it.
But there's one of the 33 trapped miners that we could be seeing a lot more of even after the fickle media moves on: 2nd rescued miner Mario Sepulveda, known as "the presenter."
Here's a brief description of Sepulveda from the Telegraph:
Mario Sepulveda, 40 An electrical specialist known as "the presenter" because he acted as a spokesman and guide on videos the miners sent up. He ended one video saying "Over to you in the studio."
Over to you in the studio. In these videos he would give tours of the area, crack jokes to the camera and other miners and generally served as the spokesperson for the group. And that was all while he was still underground. His rescue was perhaps the most dramatic last night. "His family said he's made for TV," said NBC's Natalie Morales, as he began to hug his family, members of the rescue team and Chilean President Sebastian Pinera. "He's born to be an announcer. And you see in this moment – a made for TV moment."
But the hugs were just the beginning. His next move was to reveal some souvenirs he brought up from the mine – rocks from down below, which he handed out to several people, including the President. Then he noticed the large crowd of fellow miners a few yards away, ran over to them and started leading them in cheers, and shaking hands. It looked a little like a red carpet. "I think everybody in Chile, when they see him, is going to want to shake his hand," said NBC's Kerry Sanders.
Later, but remarkably not too much later, Sepulveda was the first miner to sit for a brief press conference. He gave what will likely be one of the most memorable lines of the whole experience – maybe the perfect button for the inevitable Chilean miner movie (Sorkin/Fincher reunion?). It has been translated differently by different media outlets, but this one sounds the best: "I met God. I met the devil. God won." (Other version: "I was with God and with the devil, and God took me," and "I was with God and with the devil. And I reached out for God.")
Later in the press conference he said he's "not like a show biz figure" and "I'd like you to treat me like I am, a miner."
Well, for now. But Mario Sepulveda is also 'that charismatic rescued miner.' Get ready for what's next.
Here's MSNBC's video of the rescue and reaction:


—–
» Follow Steve Krakauer on Twitter
Have a tip we should know? tips@mediaite.com