McCain Responds to Putin With Russian Op-Ed: 'He Rules for Himself, Not You'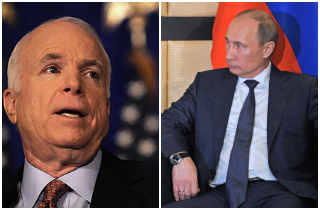 As threatened, Senator John McCain has responded to Russian President Vladimir Putin's op-ed in the New York Times with one of his own in Pravda.ru, an English/Russian news site, where he answered Putin's critiques of American exceptionalism with some rejoinders about Russia's antipathy toward self-determinacy.
Denying that he is an "active anti-Russian politician for many years," as he was apparently called by Pravda.ru's editor, McCain announced that he was, in fact, more pro-Russia than Putin.
"I make that claim because I respect your dignity and your right to self-determination," McCain wrote. "I believe you should live according to the dictates of your conscience, not your government."
RELATED: Stewart Jabs Obama on Syria, Gets Tough with Putin: 'You Want Us To Go Rocky IV on Your Ass?'
McCain assailed Putin's administration with a litany of examples of narrow rule, from rigged elections to anti-LGBT laws to the jailing of Pussy Riot. He also mocked Putin's boast of returning Russia to domestic and international strength, arguing that Russia's economy was chained to the vicissitudes of unstable resources, and that its global reputation was sullied by its Syria alliance.
"President Putin doesn't believe in these values because he doesn't believe in you," McCain wrote. "He doesn't believe that human nature at liberty can rise above its weaknesses and build just, peaceful, prosperous societies. Or, at least, he doesn't believe Russians can. So he rules by using those weaknesses, by corruption, repression and violence. He rules for himself, not you."
[h/t Pravda.ru]
——
>> Follow Evan McMurry (@evanmcmurry) on Twitter
Have a tip we should know? [email protected]