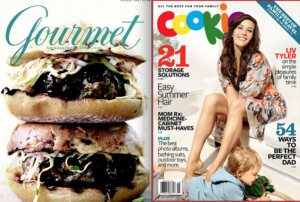 The waiting is, sadly, over. After months of speculation, the painful results of the McKinsey evaluation are in and it's not pretty. Condé has announced it plans to shutter Gourmet, Cookie, Modern Bride, and Elegant Bride (full memo below). UPDATE: Drew Schutte, senior vice president and chief revenue officer at Conde Nast Digital. "Cookie.com and Gourmet.com sites will remain up at least through the end of the year." Memo below.
Despite rumors that the epicurean titles could be in jeopardy, the news of Gourmet's print demise (the website, publishing, and TV arm will remain) seems to have come as a shock to long-time fans of both the magazine and its editor Ruth Reichl. The shuttering of Cookie, however is a surprise to many including it would seem, some on the inside: FishbowlNY's Amanda Ernst notes that "as recently as last week the magazine's publicist pitched us an interview with Cookie's publisher Carolyn Kremins, boasting that she was 'recently awarded the MIN Sales Team Leader of the Year for 2008 recognizing her 11 percent increase in ad revenue in 2008 versus 2007 with almost 30 percent of the publication's 2008 ad pages [coming] from new advertisers.'" And yet, apparently not enough to save them from the McKinsey knife.
So is this the end of the bad news? Condé Nast CEO Chuck Townsend's memo doesn't make it clear, merely noting that these measure combined with "cost and workforce reductions now underway throughout the company" will help things. Looks to be a long October at 4 Times Sq.
NEXT: Here's the full memo from Townsend and UPDATE from Schutte:
Have a tip we should know? tips@mediaite.com