Mediaite Morning Reading List: Obamacare's New Challenges, Journalists Beaten in Kiev, and More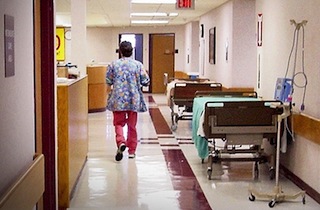 Every a.m., Mediaite publishes a primer of what the interweb machine is writing, talking, tweeting, and blogging about, so that you may fool friends and family into thinking you are a trove of information and insight. Today: Healthcare.gov clears one hurdle only to find a whole bunch more waiting for it; the coming problem in primary health care; journalists beaten in Kiev; and one man who's figured out how viral content becomes viral.

"Has Obamacare Been Rescued by the Administration's 'Tech Surge'? Don't Bet On It" (Peter Suderman, Reason)
Healthcare.gov took a victory lap at "private sector velocity" yesterday, so Reason's Peter Suderman catalogued all the problems still facing the website. The most troubling: there's no way of independently verifying whether website is meeting its own lowered expectations, other than trusting the same sources that were telling journalists up until September 30 that the site was ready to launch.
"Insurers Claim Health Website Is Still Flawed" (Robert Pear and Reed Abelson, New York Times)
A potentially bigger problem: all this focus on the front end of the federal exchange website may have taken energy from the not-yet completed back end, which channels enrollment data from the user to their new insurance provider. The repairs to the front end of Healthcare.gov may, in fact, exacerbate this problem, as customers flocking to the now-functionalish website could create an unmanageable mess of inaccurate information for insurers. The New York Times games out the potential problems:
Some insurers say they have been deluged with phone calls from people who believe they have signed up for a particular health plan, only to find that the company has no record of the enrollment. Others say information they received about new enrollees was inaccurate or incomplete, so they had to track down additional data — a laborious task that would not be feasible if data is missing for tens of thousands of consumers.

In still other cases, insurers said, they have not been told how much of a customer's premium will be subsidized by the government, so they do not know how much to charge the policyholder.
"Millions Are About to Get Health Insurance. Will They Get Care?" (Geoffrey Cowley, MSNBC)
An undercovered problem: what happens when the uninsured get coverage through the ACA and flood a health care system ill-equipped to deal with a sudden demand for primary care? Geoffrey Cowley notes that the specialization of the medical industry, along with the paucity of doctors in less-urban areas, has created gaps in care for the exact people who will benefit from Obamacare.
As in many areas of health care reform, Massachusetts provides an example: the state had a similar problem after it enacted its own health care reform last decade, and quickly passed new legislation allowing nurse practitioners to deliver a good portion of basic care. Cowley cites studies showing that such a move can be done with no reduction in quality and huge cost savings. Worth a read.
"NY Times, AFP Photographers Among At Least 40 Journalists Injured in Clashes with Police" (Olga Rudenko, Kyiv Post)
Olga Rudenko has a harrowing, on-the-ground account of over forty journalists who were beaten in yesterday's protests in Ukraine. Journalists from the New York Times, Agence France-Presse and more were assaulted by riot police, often in spite of their press credentials:
New York Times photographer Joseph Sywenkyj was injured when a piece of a sound grenade struck him in the face, his colleagues reported. Mustafa Nayem, a reporter with Ukrainska Pravda website and Hromadske TV who called people to start the protest that later turned into the Euromaidan rally on Nov. 21, was hit by a rock thrown by one of the protesters and suffered the effects of tear gas.

While some journalists suffered from flying rocks, tear gas and noise grenades when being in the middle of the clash, many report said they were deliberately beaten by the riot police while displaying their journalist IDs,which didn't help.
Non-Political Read of the Day: "Why Everyone Will Totally Read This Column" (Farhad Manjoo, Wall Street Journal)
If you haven't yet, swallow whole this profile on Neetzan Zimmerman, Gawker's viral content curator. Manjoo, Wall Street Journal's tech reporter, tries to figure out how Zimmerman so quickly combs the internet to find just the right viral content, and how he does it so well that he generates 30 million pageviews (30 million!) a month, thus freeing the rest of Gawker's staff to work on more idiosyncratic pieces. Choice quote:
"I'm following the big story arcs online, like in a soap opera. Like within a trend of cats, different cats will have moments where they're popular: Grumpy Cat is not popular now, but maybe it's Lil Bub."
[Image via Texas Tribune]
——
>> Follow Evan McMurry (@evanmcmurry) on Twitter
Have a tip we should know? tips@mediaite.com