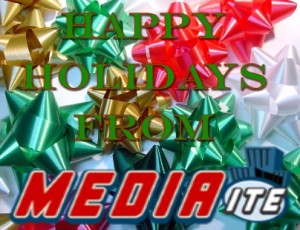 'Tis the season to be jolly, but 'tis also the season to fill dead news space. Luckily, you're also probably looking for something to do after you sleep off the eggnog, glance nervously at your now-bone-dry tree, and try to remember if you really just paid twelve bucks to see Little Fockers. Whether you celebrate Christmas, Hannukah, Kwanzaa, or even Festivus, you're in a Claymation-infused entertainment dead zone this weekend, so why not check out what the "cool kids" are watching this time of year?
If you don't know any cool kids, however, you could do worse than the Mediaite staff's out-of-the-box picks of our favorite Holiday flicks. Now, get thee to Netflix!

While there was very little duplication, one film that shows up twice on our list (once with a handy drinking game!) was also the subject of much background chatter. Love, Actually was the most frequently mentioned, and is probably the runner-up on many of our lists. (Oddly, the other big winner of our rundown is John Amos, who also makes two appearances.) The remaining selections veer from odd to odder, but hopefully, that's the fun of this list. Let us know your favorites in the comments section.
Coming to America – Mediaite Contributing Editor Frances Martel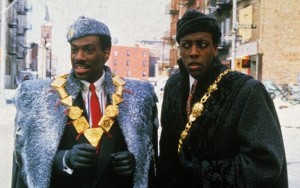 It's not primarily a holiday movie, and I doubt the writers intended it to be interpreted as a full-throated Reagan-era hymn to America, but Coming to America exemplifies the holiday spirit better, to me, than any other "winter in New York" feel-goods out there.
A prince and his brother travel to a faraway land to find the American dream… capture her and present her as the new leader of their country. Ok, so the bright-eyed immigrant analogies don't 100% work, but good ol' Prince Akeem does his best to emulate a bootstraps experience of working hard, learning the culture, and rubbing shoulders with an "elite" (small business owners) that calls him "Kunta Kinte" and wears entirely too much product in their hair.
Their shared winter, and Akeem's love interest's insistence on treating him well, even at a holiday party, simply because of his drive to "make it," is all too familiar a story to a kid who grew up sharing her Christmases with recent Caribbean arrivals who were just thankful to be treated as equals, the way Akeem so joyfully expresses. That, and watching Arsenio Hall get rejected never gets old.
Love, Actually – Mediaite Contributing Editor Jon Bershad
Jingle All the Way – Mediaite Editor Matt Schneider
Love, Actually – Mediaite TV Editor Mark Joyella
The Sound of Music – Mediaite Editor-at-Large Rachel Sklar
Ordinary People – Mediaite Managing Editor Colby Hall
Die Hard and Die Hard 2: Die Harder – Mediaite Political Editor And White House Correspondent Tommy Christopher
Have a tip we should know? tips@mediaite.com