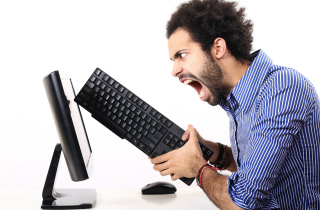 As a frequent Mediaite commenter myself, I can speak on behalf of others when I say we as a community value our "word warriors"; the readers who engage in keyboard combat and take no prisoners in the comment trenches.
It's time the top-tier trolls get little credit for landing a punch without ever having resorted to using the suffix "-tard." No big surprise politicians are also getting into the act, wading deep into the 144-character clash. Jeb trolled Hillary like a pro this week with his "fixed your logo for you."  And, as PhillyAtheist says, "We've never been trolled this hard" commenting on Trump refusal to give policy specifics. TheMightyINB agreed with a simple "Oy vey."
So now it's time to shine an appreciative spotlight on other commenters. With over 10,000 posts per week, it's hard to read 'em all, but here's the five faves for this week:
5. Mexico Shuts Down Trump's Fantasy About Them Paying for Border Wall
TrumpsCombover: Trump said he doesn't trust anyone with a foreign-sounding name, and neither does his daughter Ivanka.
—
4.Bristol Palin: Erickson and Fox Are Part of the Hypocritical 'Outrage Industry'
Wingnut McGee: Someone needs to put a cork in it.
Corvette Ed: That clearly didn't work.
—
3. Morning Joe Panel Tears Into 'Condescending' Hillary Clinton Over Email Scandal
sameolbs: What's left? Crazy Uncle Joe, the self-proclaimed socialist, and the Baltimore Leprechaun.
—
2. Nugent Defends Trump, Says He Watches Megyn Kelly 'Sitting Naked' and Loading His Gun
Pleiotropic: Ms. Kelley [sic] is 44 years old, so about 31 years too old for Ted.
—
1. Donald Trump Won't Give Specific Policy Proposals Because He Likes Being 'Flexible'
TominSTL: He doesn't have specific policies. It's as plain as the wherever on his face.
—
Honorable Mention: Massive Explosion Reportedly Rocks Tianjin, China
Handsome Devil: Damn that was a huge explosion.
slippyjippy: That's what she said…
—
Too soon? Um, yeah.
So what do you think, commenters? Leave your thoughts below and feel free to nominate posts for the upcoming lists. You've never been shy before, so don't start now.
[Featured image via Shutterstock.com]
— —
Have a tip we should know? tips@mediaite.com