Meet Marc Leder, The Romney Fundraiser Host And Private Equity Manager Who Threw Sex Parties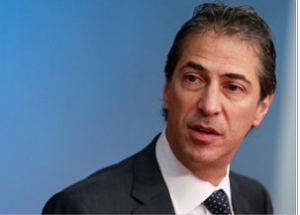 Mother Jones shook up the campaign cycle yesterday after publishing a hidden video of Mitt Romney speaking at a private fundraiser about the "47 percent" of voters who are guaranteed to vote for President Barack Obama, those who are "dependent" on government. Today, the magazine released the full video, and has been offering up more details about the fundraiser itself. Including the man who hosted it, Marc Leder, whom they dubbed as the "hedge fund manager who likes sex parties."
Leder is a private equity manager who hosted the Romney fundraiser at his Boca Raton home in May, with donors who paid $50,000 a plate to attend. There, Romney made the following remarks that now have him in hot water:
There are 47 percent of the people who will vote for the president no matter what. All right, there are 47 percent who are with him, who are dependent upon government, who believe that they are victims, who believe the government has a responsibility to care for them, who believe that they are entitled to health care, to food, to housing, to you-name-it. That that's an entitlement. And the government should give it to them. And they will vote for this president no matter what…These are people who pay no income tax…[M]y job is is not to worry about those people. I'll never convince them they should take personal responsibility and care for their lives.
The New York Times called Leder "practitioner of a Wall Street art that helped define an age of hyperwealth, and which has now been dragged into the white-hot spotlight of presidential politics: private equity." That "art," of course, is how Romney built up his wealth, and how he met Leder.
A couple of months after the blowout in Bridgehampton, Mr. Leder was host for a fund-raiser at his Boca Raton home for Mr. Romney's campaign. But the connection goes back even further. Years ago, a visit to Mr. Romney's investment firm inspired Mr. Leder to get into private equity in the first place. Mr. Romney was an early investor in some of the deals done by Mr. Leder's investment company, Sun Capital, which today oversees about $8 billion in equity.
The NYT also didn't fail to note Leder's perception as a "private equity party boy." A perception Leder doesn't view as entirely fair.
"I think the portrayal of me as having wild and crazy parties is absolutely incorrect," Mr. Leder said during a wide-ranging interview in Sun Capital's offices in Midtown Manhattan. "I spend a small percentage throwing some parties, attending some parties. I like music. I like to dance. But rather than reporting on how I spend 340 days and nights of my year, the media likes to report on the other 25."
Indeed, The New York Post pointed out one of those "other 25" days in a story headlined "Nude Frolic in Tycoon's Pool." Mother Jones notes that Leder likes to have "a certain kind of fun." Per the Post:
It was as if the Playboy Mansion met the East End at a wild party at private-equity titan Marc Leder's Bridgehampton estate, where guests cavorted nude in the pool and performed sex acts, scantily dressed Russians danced on platforms and men twirled lit torches to a booming techno beat.
Regardless of what Mother Jones' David Corn called Leder's "side pursuits," it looks like the recent fundraiser video draws some attention to the man who hosted it as well.
(H/T MoJo)
Have a tip we should know? tips@mediaite.com