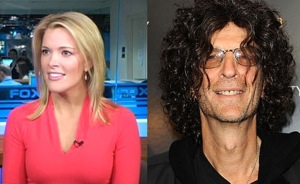 Megyn Kelly is officially "enjoying a moment." She went on The Howard Stern Show this morning and showed that the shock jock is putty in her hands (not unlike Kelly's cohort Bill O'Reilly.) In an entertaining interview, Kelly revealed a lot about her rise to prominence at Fox News, discussed the alleged Fox News political litmus test, and spoke candidly how her future at the network almost never was, if not for the foresight of Roger Ailes.
We've said it before, we'll say it again. Megyn Kelly is a badass. Case in point: yesterday she had on some guests to discuss the intellectual property of entertainers, and deftly handled a guest's mentioning of the sex-toy (called a Sybian.) Its that very verve she brought to the Howard Stern studio this morning.
In the following audio segment pulled for this post, Kelly discusses her personal politics, how she came to be on-air talent for Fox and deflects questions about the size of the "manhood" in her life. Specific highlights:
Kelly very nearly didn't get the job. After auditioning well, and being certain that she's got the dream job, the then number two (just below Fox News Chairman Roger Ailes) called Kelly to tell her that Fox News wasn't in fact interested. Ten minutes later she hears back from the unnamed executive who then tells her "Well, Roger definitely wants you." Kelly exclaims: "Thank God Roger Ailes!"
Stern asked Kelly about how personal politics affected her getting the job at Fox, asking "did Roger Ailes ask point blank where you stand politically?" Kelly did not demur in saying clearly, "Never! This is such a misconception," then later "swearing to God on a stack of bibles."
In Kelly's esteem, O'Reilly's on-air personality is a far cry from his personality away from the camera, calling him "pretty shy."
Kelly does not take Howard Stern's bait in discussing the penis sizes of the men in her life (including her boss Roger Ailes)
Cable news insiders will quickly try to figure out which executive initially told Kelly that Fox News wasn't interested in her (the current number two to Ailes is Bill Shine.) Source close to the Kelly's hiring have told Mediate that it was likely Kevin Magee, the current president of fledgling sister network Fox Business Network.
Have a tip we should know? tips@mediaite.com