Megyn Kelly Opens Up To People About 'Risky Career Change,' Balancing Work With Family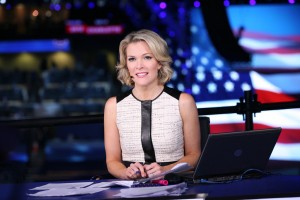 Fox News host Megyn Kelly opened up to People magazine, discussing how she's balancing her work with marriage and motherhood. Particularly in the busy season leading up to November's election.
Kelly, who's married with two children, recently co-anchored Fox News' Republican National Convention coverage alongside Bret Baier, "a move that cements her status as the network's rising star," People's Charlotte Triggs writes.
Fox News executive vice president Michael Clemente called Kelly "bright," commending her ability to "ask the right questions in a polite but aggressive way."
And those qualities, Triggs adds, helped Kelly "navigate a risky career change" — from litigator to journalist. The transition, it seems, came from Kelly realizing she simply didn't enjoy practicing law any longer:
"By the end I just hated it," she says of practicing law. "I loved arguing in front of a jury, but there's so much paper pushing. I realized I had done nothing fun in my 20s, just toiled away. I resolved I wouldn't spend my 30s the same way."
…so she decided to convince her way into a job by offering to work for free:
With no formal journalism training, she landed her first job in Washington, D.C., at an ABC affiliate after offering to work for free. "I figured I argued for a living, so if I couldn't convince them to let me work for no money, I didn't deserve the job," she recalls. "But my first producer would tell you I threatened to put a stiletto in his eye if he didn't hire me."
(Ouch.)
Then in 2004, after covering the Supreme Court for Fox News, Kelly's bosses told her to lighten up — which prompted her to "let [her] flaws out a bit," she said. "I have the humor of a 9-year- old boy, and sometimes I've had laughing fits on-air. Now I realize I am nowhere near perfect, and that is okay."
Two years later, Kelly moved to the anchor chair, where she's remained since. Her husband, Doug Brunt, said Kelly has the "superwoman" routine down pat — but, "If she ever misses something funny that the kids say or do, she really beats herself up."
"But I reject the notion that you can't have it all," Kelly said. "I think you can: just not necessarily in abundance."
True to those words, she aims to fit everything into her schedule — which sometimes means bringing her family along on work-related trips. Like the Iowa caucus. But she's not trying to prove anything: "I'm doing it because I'm committed to the job, but my family still comes first."
Full story available in People magazine issue currently on newsstands.
Have a tip we should know? tips@mediaite.com