Merry Mediaite! Friends and Fans Join Dan & Floyd Abrams To Toast Our Happy, Scrappy Website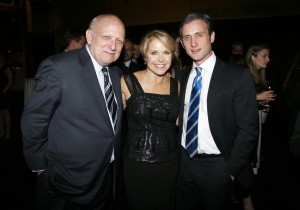 Anyone who works in media these days — especially online — knows that it can be an all-consuming lifestyle, caught up in the immediacy of the 24-7 news cycle and very much given to being swept up by the wildly fluctuating highs and lows of the moment. That's why it's so nice to step back and enjoy an evening with friends and colleagues, and remember why you like your job in the first place. Last night's party at the Plaza, sponsored by Mediaite's partner Bing, was a night for just that, as our founder Dan Abrams and his father, the esteemed First Amendment lawyer Floyd, along with his lovely wife Efrat, welcomed a convivial array of guests from across the mediasphere to a really fun gathering to celebrate the growth of Mediaite.
It was, simply put, a good time. Guests included Ann Curry and Meredith Vieira (fresh from their own NBC party at 30 Rock), whom I walked in with to a first glance that included John Carney from Clusterstock, Cindy Adams and Dan Rather. New media mixed with old in a room where Cathie Black and Kate White mixed with Rex Sorgatz and Rick Webb (or at least stood near them); and new colleagues reconnected with former coworkers (for me, Danny Shea and Katherine Thomson from the Huffington Post, for Mediaite TV editor Steve Krakauer, TV Newser editor Chris Ariens). It was great to introduce our columnists like Tommy Christopher, Jose Simian, Lesley Blume, Katie Baker, Phil Bump and Melissa Lafsky to one another. It's pretty fun to close down a party with Katie Couric.
Oh, and also, Snape was there. Yes. That Snape.
The second wave included more friends coming over from 30 Rock – Hoda Kotb, Willie Geist, Chris Licht, Contessa Brewer, Peter Alexander, as well as their counterparts from other networks like Gigi Stone, Ali Velshi, Pat Kiernan and Deborah Feyerick. Couric came by with Brooks Perlin and some CBS friends; of the picture above she joked "It's an Abrams Sandwich!" and that sort of describes the evening: a tantalizing assortment of spicy, nutritious guests held together by Dan and Floyd. You know what I mean. Anyway, it was delicious.
Below I captured Dan's remarks to the crowd (slightly truncated due to a camera glitch, right where he's proudly declaring himself new media – give the guy Tweetdeck and there's no giving back) and thanking his staff, aka my wonderful colleagues who make that 24/7 whirl of Internet immersion so damn fun: Managing Editor Colby Hall, Senior Editor Glynnis MacNicol, TV Editor Steve Krakauer, Contributing Editor (and "Consigliere") Andrew Cedotal (but not to be confused with Dan's other, unofficial, consigliere, Dave Zinczenko), Office Manager (and Girl Friday) Ruthie Friedlander, Associate Editors Robert Quigley & Joseph Coscarelli and me, Rachel Sklar, the Editor at Large and in charge of the wobbly footage below:
Other guests included Brian Stelter, Laura Brown, Andrew Ross Sorkin, Lloyd Grove, Jason Binn, Susan Stroman, Hilary Shor, Neil Shah, Lisa Shields, David Lauren, Robert George, Sujata Thomas, Geraldine Hessler, Rachelle Hruska, Felix Gilette, Michael Hogan, Matt Pressman, Gossip Cop cousins Michael Lewittes and Daniel Jacobson, and our infamous Panel Nerds, Etan Bednarsh and Danny Groner. Collect all your favorites in the photo gallery below! Thank you to everyone who joined us Tuesday evening, and thank you to Dan and Floyd for a great party.
Have a tip we should know? tips@mediaite.com