Michael Steele Blasts RNC Chair Reince Priebus For 'Crapping' On His Legacy: He 'Was My Right Hand'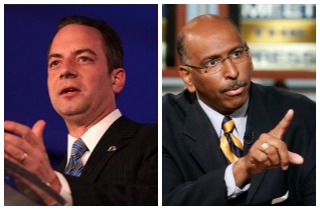 Former Republican National Committee chairman Michael Steele is getting tired of his successor "crapping" on his legacy. While co-hosting WMAL's "Mornings on the Mall" on Tuesday, Steele criticized Reince Priebus for acting as if he had nothing to do with "the so-called debt that he inherited" — when he was Steele's "right hand."
For two years, Steele said, Priebus "was in every room I was in, a part of every major decision I made for how much money we would spend, what we would spend that money on, what the priorities of the RNC would be." He "was my right hand" — and therefore it's wrong for him to pretend he had no role in the decision-making process of that time.
Moreover, "he recommended to me to go into debt, so acting "like he had nothing to do with it and that somehow he inherited this mess that he helped create, to me is just pure B.S."
Steele, who's hardly avoided criticism of Priebus before, wasn't done there:
"And I kept my mouth shut for two years because, hey, I'm a party guy. But you know what, at the end of the day, you say to yourself, they're dumping on you, they're crapping on your legacy, they're giving you crap for stuff that they didn't want to do in the first place: coalitions, expanding media, social media networks. They virtually ran my guy out of town. They didn't want to support him. The coalitions department — I had to fight every year for the measly $900,000 that we put into building 185,000 volunteers around the country, as part of our coalition network."
Highlighting a more recent issue, Steele hit the RNC for their recent autopsy report, which, following 2012's election loss, outlined the party's problems and offered recommendations for their revised approach going forward.
"So let me get this straight: you spend $10 million dollars to find out that we have a problem?" he asked. "Hello? Don't get me started."
Listen below, starting at about 6:25:

Have a tip we should know? tips@mediaite.com