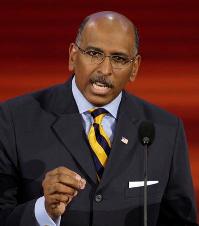 Michael Steele told ABC's George Stephanpoulos yesterday he had no plans to step down as RNC Chairman.
But in the wake of the Voyeur club scandal, two of those close to Steele have cut ties with him and the RNC – a big blow to Steele's future.
The losses of Ken McKay, RNC Chief of Staff, but also Steele adviser Curt Anderson. It is Anderson who some are describing as the more telling move. Chris Cillizza in the Washington Post writes today:
Anderson, who had played a central role in Steele's surprise victory last January, had stepped back from day-to-day involvement with the RNC several months ago — leaving McKay as the lone voice of opposition to the chairman, according to several informed sources.
Politico's Jonathan Martin has a statement from Anderson about his decision:
Ken McKay's departure is a huge loss for the Republican Party," Anderson said in a statement to POLITICO. "Ken steered the party through very successful elections last fall that have given us tremendous momentum. He's a great talent. Given our firm's commitments to campaigns all over the country we have concluded it is best for us to step away from our advisory role at the RNC. We have high personal regard for the Chairman and always have; we wish him well.
"Wish him well" – doesn't exactly highlight the supposedly close relationship they supposedly shared. Politics Daily columnist Matt Lewis puts it in perspective on Twitter: "…The Andersons leaving Steele now is tantamount to Rove leaving Bush in '02 – or Axelrod giving up on Obama now."
Obviously, a huge comparison. So the next question is – where does Anderson show up next to tell him story? It could be a Sunday show, as bookers are likely battling for his exclusive at the moment. Or if he chooses cable news, does the GOP adviser go to Fox News to potentially provide the nail in the Chairman Steele coffin, or does he go to CNN and, say, Larry King? It's highly unlikely, but there is another cable news network whose prime time hosts would love to hear Curt Anderson's insider take.
—–
» Follow Steve Krakauer on Twitter
Have a tip we should know? tips@mediaite.com