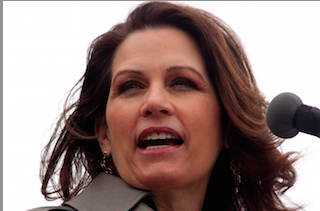 As a conservative, Rep. Michele Bachmann (R-MN) may be on favor of lowering taxes for American citizens, but during a conference call with members of anti-immigrations group Numbers USA last week she proposed raising taxes to a whopping 100% on undocumented immigrants.
After describing the massive, well-lit, fully-guarded fence she wants the U.S. to build along the full length of the border with Mexico, Bachmann proposed another way to discourage Mexican and Central American citizens from entering this country illegally.
"Mexico, El Salvador, Honduras and Guatemala, those countries are laughing at us because they're making money with their corrupt governments in conjunction with these international criminal cartels, they're all making money and kickbacks," Bachmann said. "What I believe we should do is have a 100 percent tax on remittances, the money that illegal aliens send back to these countries."
If that tax were levied, Bachmann said "We would have phone call from the president of these countries in five minutes saying, 'What can we do? We want to keep this money flowing into our economy.'"
"What we have to recognize is this truly is a war against the American people," Bachmann concluded.
The audio of Bachmann's remarks sets them apart from the falsely reported — though somehow entirely believable — comments she supposedly made last week calling for "Americanization camps" in which undocumented children would work off their debt to society.
Listen to audio below, via Numbers USA:
[h/t RWW]
[Photo via screengrab]
— —
>> Follow Matt Wilstein (@TheMattWilstein) on Twitter
Have a tip we should know? tips@mediaite.com