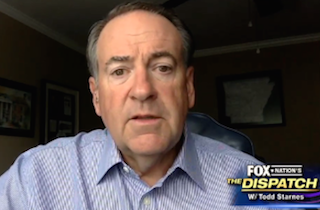 As a presidential candidate like Mike Huckabee should probably know by now, if you start a sentence with "it sounds crass, but," you probably shouldn't finish that sentence.
During an online interview with Fox News' Todd Starnes on Friday, Huckabee said of the shooting at a black church in Charleston, South Carolina, "It sounds crass, but frankly the best way to stop a bad person with a gun is to have a good person with a weapon that is equal or superior to the one that he's using."
Huckabee was reacting to President Barack Obama's decision to bring up the issue of gun control during his remarks on the shooting yesterday, a move Starnes called "pretty despicable."
The candidate agreed, saying it was "disappointing" to hear Obama "grandstand" about gun control in what he described as minutes or possibly hours after the news first broke (it was approximately 14 hours later, for the record).
"All the proposals this president and others have put forward on gun control would not have stopped this shooting anymore than it would have stopped Sandy Hook," Huckabee said. "The one thing that would have at least ameliorated the horrible situation in Charleston would have been that if somebody in that prayer meeting had a conceal carry or there had been either an off duty policeman or an on duty policemen, somebody with the legal authority to carry a firearm and could have stopped the shooter."
Essentially, Huckabee is arguing that more guns — not less — are the answer to preventing deadly mass shooting like this one from happening in the future.
Watch video below, via Fox News:
[Photo via screengrab]
— —
>> Follow Matt Wilstein (@TheMattWilstein) on Twitter
Have a tip we should know? tips@mediaite.com