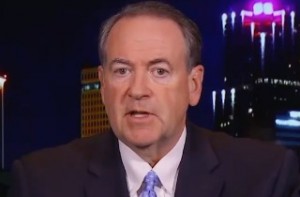 All things being equal in partisan politics, President Barack Obama, his staff and several Democratic supporters are very supportive of the Iran Deal.  Therefore, the GOP mostly hates it — especially the 2016 presidential hopefuls currently campaigning for the White House. And the deal's loudest, most sound bite-savvy opponent is none other than former Arkansas Gov. Mike Huckabee.
In a fluff piece of an interview with Breitbart, Huckabee skipped way ahead of the rest of the line when he equated the Iran Deal to being a member of the Nazi SS and finding, capturing and taking Jews to the doors of places like Auschwitz.
Seriously, I'm not kidding (emphasis added):
"This president's foreign policy is the most feckless in American history. It is so naive that he would trust the Iranians. By doing so, he will take the Israelis and march them to the door of the oven. This is the most idiotic thing, this Iran deal. It should be rejected by both Democrats and Republicans in Congress and by the American people. I read the whole deal. We gave away the whole store. It's got to be stopped."
The rest of the interview gives Huckabee a platform to discuss his campaign's primary talking points and platforms, as well as what he thinks about the current status of the Republican Party. At one point, he talks about what Breitbart's Robert Wilde referes to as "everybody [playing] by the same rules in America":
"We are a nation of law—not emotions, not men, not money, not power—but a nation of law," he clarified. "Our worth and our value comes from a higher source, God. Not the government, but from God." Huckabee informed that from this fundamental value all other values emanate.
Yet its harshest, and most sound bite-y, bit remains Huckabee's "march them to the door of the oven" comment. And since the interview was published on Saturday and picked up by other websites on Sunday, it will no doubt inform others' talking points about (and for) Huckabee in the following week.
[h/t Breitbart]
[Image via screengrab]
— —
>> Follow Andrew Husband (@AndrewHusband) on Twitter
Have a tip we should know? tips@mediaite.com