Mike Pence Encourages Trump's Supporters to 'Be Involved… in Providing Accountability' at Polls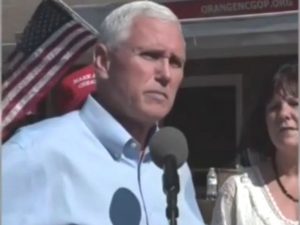 Mike Pence suggested that encouraging Trump supporters to actively monitor polling places on Nov. 8 was necessary to maintaining the fairness of the election.
Speaking to reporters at the site of a GOP campaign office in Hillsborough, North Carolina that was firebombed last week, Pence once again tried to recast his running mate's repeated declarations that the election would be rigged as a reference to media bias — not to actual election fraud.
Despite Pence's protestations, his running mate has been explicit in his belief that the election will be rigged "at many polling places."
Pence agreed that there were "instances, proven instances of voter fraud. And that's why Donald Trump and I are encouraging all of our supporters around the country and, frankly, every American, whatever their politics, to take the opportunity to be involved in a respectful way in providing accountability at our polling places."
In-person voter fraud is, in fact, vanishingly rare.
Trump has repeatedly told his supporters that there will be fraud and cheating at the polls and has called for his fans to monitor them, a tactic critics say skirts close to voter intimidation.
One Trump supporter from Ohio who planned to be a poll watcher spoke the Boston Globe about his tactics. "I'll look for . . . well, it's called racial profiling. Mexicans. Syrians. People who can't speak American," he said. "I'm going to go right up behind them. I'll do everything legally. I want to see if they are accountable. I'm not going to do anything illegal. I'm going to make them a little bit nervous."
When a reporter noted that bipartisan poll watching and other state laws have long been in place to ensure the integrity of the election, Pence acknowledged that those measures had "served us well," he said. But "given the dramatic choice the American people face in this election," he said that Trump's campaign was encouraging its supporters "to be involved, to take the opportunity, to respectfully participate in the electoral process on a precinct-by-precinct level."
Pence repeatedly said during the presser, which was broadcasted simultaneously on Fox, CNN, and MSNBC, that the bombing of the GOP office had gotten "very little national media attention." He called it an "act of political terrorism."
Have a tip we should know? tips@mediaite.com