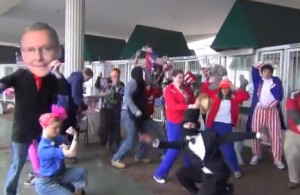 It had a good, long run, but the "Harlem Shake" meme is officially over. Some would argue it has been over for awhile, but Senate Minority Leader Mitch McConnell's reelection team put a big, flowery wreath on the meme's grave today when they released their own version of the viral video sensation, featuring a giant Mitch McConnell mask, a guy in a tutu, an Abraham Lincoln, and a Rosie the Riveter busting moves in front of Louisville, Kentucky's Churchill downs racetrack.
I'm not gonna front, I had no idea what the "Harlem Shake" meme was until Jon Stewart used it as a "Moment of Zen" to cap off an episode of The Daily Show a few weeks ago, which was probably the moment the meme's orbit began to decay. Apparently, thousands of people have uploaded their own versions of "Harlem Shake" videos, which follow a common formula:
The videos last between 30 and 32 seconds and feature part of the song "Harlem Shake" by electronic musician Baauer. Usually, a video begins with one person (often helmeted or masked) dancing to the song alone for 15 seconds, surrounded by other people not paying attention or unaware of the dancing individual. When the bass drops, the video cuts to the entire crowd doing a crazy convulsive dance for the next 15 seconds. The dancing style should not be confused with the original Harlem Shake dance. Additionally, in the second half of the video, people often wear a minimum of clothes or crazy outfits or costumes while wielding strange props.

The song starts with a 15 seconds intro, then 15 seconds with the bass, then a lion roar at the end of the first 30 seconds, making videos songs easy to create.
That's how cool I am, I get my info about internet memes from Wikipedia. The meme hit the big time in early February, and according to Wikipedia, probably really died when The Today Show did their version. Perhaps Team Mitch is on the cutting edge of an ironic revival. From CNN:
The McConnell campaign tells CNN that the people in the video are college students from nearby schools who "approached us about shooting it because they are all fired up to volunteer for Team Mitch!"

"We are putting it out because we plan to work hard but also plan to have a lot of fun," said McConnell campaign manager Jesse Benton.
I know what you're thinking, but no, Jesse Benton isn't the guy who used to hold Morris Day's mirror. Now, that would be cool.
Here's the video, from Team Mitch:
Follow Tommy Christopher (@TommyXtopher) on Twitter.
Have a tip we should know? tips@mediaite.com