Molly Ringwald Calls Out Studio Exec Jeffrey Katzenberg For Sexually Explicit Comment in Essay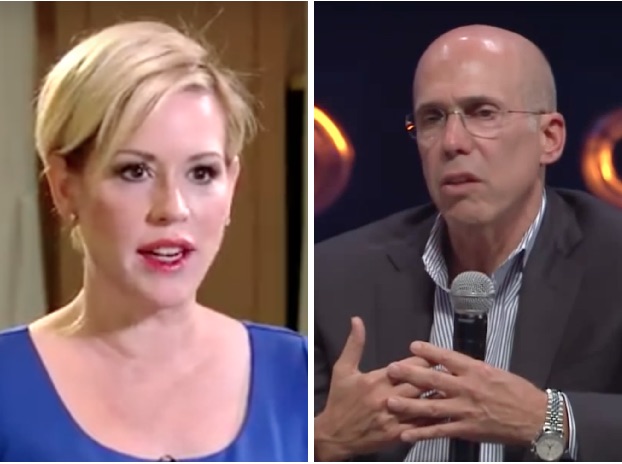 In an essay about sexual harassment in Hollywood, actress Molly Ringwald called out studio executive Jeffrey Katzenberg for a sexually explicit comment he made about her over 20 years ago.
In her piece called "All The Other Harvey Weinsteins," Ringwald made reference to Katzenberg, who at the time just founded DreamWorks SKG with Steven Spielberg and David Geffen, and was quoted in a 1995 article about her fading stardom.
"I wouldn't know [Molly Ringwald] if she sat on my face," he said.
Ringwald did not forget.
"The head of a major studio — and, incidentally, someone who claims himself to be horrified by the Harvey allegations — was quoted as saying, 'I wouldn't know [Molly Ringwald] if she sat on my face,'" she wrote. "Maybe he was misquoted. If he ever sent a note of apology, it must have gotten lost in the mail."
Katzenberg issued the following statement to The Hollywood Reporter denying he had ever said it but still apologizing:
"That Molly Ringwald had to read those words attributed to me and believe I said them is horrifying, mortifying and embarrassing to me. Anyone who knows me now or back then knows I do not use language like that as a matter of course, or tolerate it. Ms. Ringwald, 22 years too late, I am deeply, deeply sorry."
Ringwald, who starred in '80s classics like Sixteen Candles, The Breakfast Club, and Pretty in Pink, revealed that at 13 years old, a 50-year-old crew member pushed against her with an erection after he told her he'd teach her how to dance and at 14 years old, a married film director "stuck his tongue in [her] mouth on set."
[image via screengrab]
Have a tip we should know? [email protected]