N.J. Democratic Sen. Likens Possible Primary Opponent Cory Booker To Child Who Needs A 'Spanking'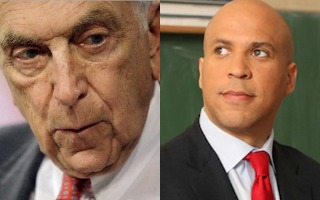 Sen. Frank Lautenberg (D-NJ) is not responding to the news that Newark Mayor Cory Booker may challenge him in a 2014 Democratic primary well. Lautenberg recently told the press that Booker is "entitled" to run against him in a primary if he wants to, but he thinks that he has gone about expressing his interest in Lautenberg's seat in the U.S. Senate in a "disrespectful" way. If his children behaved as Booker has, Lautenberg said, he noted that a "spanking" usually cured them of their insolence.

RELATED: Cory Booker Sounds Like A Candidate, But His Promise Will Be Squandered If He Faces Chris Christie
"I have four children, I love each one of them. I can't tell (you) that one of them wasn't occasionally disrespectful, so I gave them a spanking and everything was OK," Lautenberg told reporters when asked about Booker's interest in his seat.
"He's entitled to do it," Lautenberg added. "He'll have to stand on his record and I'm sure he won't be a lone soldier out there drooling at the mouth and wanting this cushy job that we have here."
Lautenberg, 89, was reelected to the Senate in 2002 after coming out of retirement to replace Sen. Robert Torricelli when it appeared that ethics questions may scuttle Torricelli's reelection chances.
Booker recently declined an opportunity to challenge Republican Gov. Chris Christie in the 2013 election. Booker said in a web video that he is exploring a run for U.S. Senate and will presumably challenge Lautenberg if the aging senator chooses not to retire ahead of the 2014 midterms.
h/t Philly.com
> >Follow Noah Rothman (@NoahCRothman) on Twitter
Have a tip we should know? tips@mediaite.com