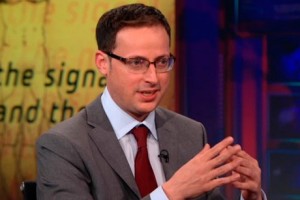 Nate Silver's not a big fan of Water Polo…or Beach Volleyball…or any other Olympic sport which involves a large number of preliminary match-ups and culminate in a single contest for the Gold medal. So ESPN's resident genius set about determining whether his tastes mirror America's by creating a metric, of course, because he's Nate Silver.
Using TV ratings from the 2012 Olympics, Silver calculated in a post today over at Five Thirty Eight that Water Polo does indeed rank low on the Olympic priority list of most worldwide viewers. But Beach Volleyball ranks highly, as evidenced here in the U.S. by the airtime that NBC has given the sport during its primetime coverage. Silver considers the sport 7th most popular.
According to Silver, the five most popular Olympic sports with worldwide viewers are; Track and Field, Swimming, Gymnastics, Soccer, and Basketball. The five least popular are; Rhythmic Gymnastics, Taekwondo, Sailing, Trampoline, and the Modern Pentathlon.
The point of determining this (other than the fact that he's Nate Silver and he just calculates things whenever he gets bored) was to speculate how much Olympic medals would count if weighted in terms of popularity. This yielded a jingoistic result, as Silver's calculations were weighted heavily in favor of the United States.
However, in our view, this exercise was flawed on a number of levels. Silver used only the ratings from the 2012 Olympics to determine a sport's popularity. Those Olympics were in London, which is five hours ahead of the east coast. Many results were already known before the events aired in the U.S., which makes up a not insignificant portion of the worldwide audience. We Americans tend to like watching ourselves win — which NBC knows, so they show more of us winning.
Second, the London Olympics wasn't timezone friendly to China, second to the U.S. in both the 2012 medal count, and Silver's weighted version. (Second in the latter by a much greater margin.) So events that happened in primetime in London took place in the middle of the night in China. We're not experts on what airs when in China, but we're guessing that viewership was probably off as a whole there. And China makes up another not insignificant portion of the worldwide audience. So their success was viewed by a smaller number of people than usual, we would venture to say.
Far be it for us to question Nate Silver on a math thing (we'd probably fare just as poorly competing against Simone Biles in a gymnastics thing), but this analysis seems kind of thin.
[image via screengrab]
–
Follow Joe DePaolo (@joe_depaolo) on Twitter
This is an opinion piece. The views expressed in this article are those of just the author.
Joe DePaolo - Senior Editor