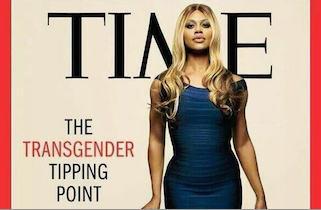 This week, Time magazine made history by putting the first openly transgender person on its cover. Orange Is the New Black actress and transgender rights activist Laverne Cox appeared beside the headline, "The Transgender Tipping Point: America's Next Civil Rights Frontier." But this was all just too much for The National Review's Kevin D. Williamson to bear. He reacted to the cover with a nasty takedown of Cox and the basic idea of transgender identity that used as its headline, "Laverne Cox Is Not a Woman."
On that point, one could argue, Williamson is right. Cox is not a "woman" in the narrow, traditional sense that he is capable of comprehending. But nor is she a "man" in the way he insists on describing her throughout his intentionally offensive screed. Cox proudly identifies as transgender and has been instrumental in raising awareness about the issues that many transgender Americans face, like being denied healthcare and bullied or victimized in other violent ways.
In many ways, Williamson's column is sequel of sorts to one he wrote last August titled, "Bradley Manning Is Not a Woman," after the former Army private announced she was transgender and would now go by Chelsea Manning. Since Manning appeared on the cover of Time before she came out as transgender, Williamson struggles to understand how Cox's cover is groundbreaking.
Throughout his new piece, Williamson deliberately uses male pronouns to refer to Cox in an apparent attempt to prove a point about political correctness. He calls Cox a "spokesman" for the transgender cause, adding, "no doubt he would object to the term." Later, Williamson says that "misdeploying" pronouns is "now considered practically a hate crime."
But things really start to get offensive when Williamson starts trying to define what "sex" is:
"Regardless of the question of whether he has had his genitals amputated, Cox is not a woman, but an effigy of a woman. Sex is a biological reality, and it is not subordinate to subjective impressions, no matter how intense those impressions are, how sincerely they are held, or how painful they make facing the biological facts of life. No hormone injection or surgical mutilation is sufficient to change that…

The trans self-conception, if the autobiographical literature is any guide, is partly a feeling that one should be living one's life as a member of the opposite sex and partly a delusion that one is in fact a member of the opposite sex at some level of reality that transcends the biological facts in question. There are many possible therapeutic responses to that condition, but the offer to amputate healthy organs in the service of a delusional tendency is the moral equivalent of meeting a man who believes he is Jesus and inquiring as to whether his insurance plan covers crucifixion."
This passage demonstrates a fundamental lack of understanding about the difference between sex and gender. There is a reason the term "transexual" is no longer used while "transgender" has become the accepted descriptor. While someone's sex may be defined by biological characteristics, gender is essentially a psychological identification.
In a new interview that appears in this weekend's New York Times Magazine, Cox says, "I think it's important to empower being trans. Most of the narrative around trans identity has been about transitioning. You blend in, and that is the goal, but blending in was never an option for me. Some people are going to know that we're trans. There's nothing wrong with that."
Laverne Cox is not trying to fool anyone about her sex, but rather trying to express the gender she feels herself to be to the world. If that means she would prefer you to use female pronouns when you refer to her, is that really too much to ask?
The column ends with a cursory nod to a libertarian ideology that indicates people should be able to identify however they see fit. "As a matter of government, I have little or no desire to police how Cox or any other man or woman conducts his or her personal life," Williamson writes. "But having a culture organized around the elevation of unreality over reality in the service of Eros, who is a sometimes savage god, is not only irrational but antirational."
Williamson will never understand Cox's reality — neither will I or anyone else who has not lived through a similar experience. He should really stop trying.
To hear a bit of Cox's perspective, watch this behind-the-scenes photo shoot video, via Time:
[Photo via screengrab]
— —
>> Follow Matt Wilstein (@TheMattWilstein) on Twitter
Have a tip we should know? tips@mediaite.com