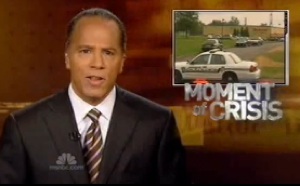 Last night, Countdown host Keith Olbermann found time to criticize CNN's Rick Sanchez on Twitter, during his broadcast, for opening his show with the Connecticut workplace shooting story. Olbermann opened with the Prop 8 ruling, and mid-show tweeted out "I happen to like Rick Sanchez, I worked with him. But how CNN could begin with the Connecticut shooting, bad as it was, is inexplicable." As it turns out, in a nearby studio (in the very same building), the NBC News flagship program Nightly News also inexplicably led with the same story.
As Steve Krakauer reported earlier today, it's somewhat noteworthy when a cable news host takes to Twitter, mid-taping, to review his fellow competitors. But that is the social media age we live in now. As Krakauer wrote:
It's not surprising Olbermann was tuned into the competition. All cable news hosts surely knew what the others are leading with, since TVs are in each studio. But a live editorial dispute between competitors during their respective shows? That was rare – and only really possible in the Twitter Age of media.

Sanchez actually led his show by saying, "As we begin this newscast, I want to get you to California. We've got some video coming in now that details what some of the reaction is out there and there has been a bevy of it." He played some video, but the first segment was about the shooting. Over the next half hour he mentioned the Prop 8 ruling several times (including using the Twitterboard), but didn't have a segment about the decision until 8:38pmET.
As you can see in the following clip, Nightly News opened their show last night with the same editorial decision, covering the shooting tragedy in Connecticut for roughly three minutes, before getting to the Proposition 8 story. If it bleeds, it leads.
Have a tip we should know? tips@mediaite.com