#NeverTrump Has Been Trending on Twitter Since Last Night and Even Rubio is Playing Along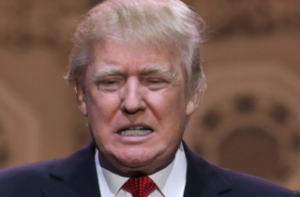 Last night, #NeverTrump started trending on Twitter and shows no real signs of slowing down. The bipartisan effort is almost inspiring, showing that people from all parties, religions, and races really can come together and stand united on an issue. It's a beautiful Saturday afternoon, so maybe we could all take a second to imagine that this unification is what Donald Trump has been secretly working toward all along. When he called Mexicans rapists, insulted Megyn Kelly, and proposed banning all Muslims from entering the United States, maybe he was really trying to bring people together.
Anyway, here are some tweets!
From a liberal blogger:
Because the other presidents must be like this.#NeverTrump#p2 pic.twitter.com/quuBUzmJpG

— Eric Wolfson (@EricWolfson) February 27, 2016
From a conservative activist:
#NeverTrump because the man openly mocked a disabled reporter. pic.twitter.com/nbxPGwRMsL

— Danielle Butcher (@RepublicanSass) February 27, 2016
From a college-aged conservative:
Why #NeverTrump? This is why. pic.twitter.com/xPlO0pPYko

— Thomas C. (@Thomas_Conerty) February 27, 2016
From a guy named Carlos who feels optimistic:
It's so nice to see Republicans and Democrats finally agree on something. #NeverTrump

— Carlos Reyes (@Eltunco_reyes) February 27, 2016
From a CNN contributor:
Yes, I'm on team #NeverTrump https://t.co/6qZhLs1R2N

— Amanda Carpenter (@amandacarpenter) February 27, 2016
From a conservative pundit:
Proud to play a role in getting #NeverTrump trending.

— Erick Erickson (@EWErickson) February 27, 2016
From a shirt-hawking opportunist:
#NeverTrump is trending right now. Grab a t-shirt! https://t.co/vrodIifG7f #donaldtrump #potus #election #usa #vote pic.twitter.com/DLkn7GOfSc

— fishbiscuit (@fishbiscuit2000) February 27, 2016
From a person in the transportation industry:
Faith in humanity is slowly being restored. Top trending hashtag on @twitter right now!#NeverTrump pic.twitter.com/LIcqB8vC7P

— Professor Taxi (@prof_taxi) February 27, 2016
Oh, yeah, and from a GOP presidential candidate:
#NeverTrump. Agree?

Add your name here: https://t.co/NmPHhsu5Ik

— Marco Rubio (@marcorubio) February 27, 2016
[image via screengrab]
For more from Lindsey, follow her on Twitter. (#AlwaysLindsey! Come on! Let's do it!)
Have a tip we should know? tips@mediaite.com