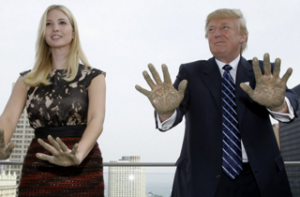 Last summer when presidential candidate Donald Trump declared that Mexicans were rapists and thieves, it caused a very predictable amount of backlash. Most of it came from outraged voters and politicians, but famed chef José Andrés was also displeased and backed out of opening a restaurant in Trump's forthcoming Washington hotel. (He was not the only restauranteur to fight back, but arguably, he was the biggest one to do it.)
This was and is still a big deal. Andrés is almost universally adored in the world of fine dining and he is behind a number of D.C.'s most successful restaurants. Naturally, Trump sued him, alleging that he broke their contract. Citing Trump's remarks as the reason he breeched the contract, Andrés countersued on the grounds that he could not be expected to work with a "pariah," especially when the restaurant was supposed to have a distinct Mexican theme.
Andrés is in a position to make headlines and large demands, but you know who isn't? The thousands of employees who work in Trump hotels and business across the country. I've often wondered what they think of all of this. At the GOP debate a few nights ago, Marco Rubio and Ted Cruz made sure to shine a spotlight on the undocumented and temporary immigrants working for Trump, which gave me a little bit of understanding. Today, Talking Points Memo has released some emails from employees of Trump's that blow the mystery of their feelings wide open.
Senior Vice President of Business Development David Orowitz responded like this when he found out from Ivanka Trump that Andrés had already experienced major backlash about his plans to open the restaurant following the incendiary comments made by the candidate:
Ugh. This is not surprising and would expect that this will not be the last that we hear of it. At least for formal prepared speeches, can someone vet going forward? Hopefully the Latino community does not organize against us more broadly in DC / across Trump properties.
Trump's son, Donald Trump Jr., then said, "I was waiting for that one."
Meanwhile, Trump's general counsel, Alan Garten, insisted that the release of this emails was a red herring and said the following:
Mr. Trump did not decide to run for president for business reasons. He decided to run for president because the country is broken, and politicians are completely incapable of fixing the issues.
He also maintained that the emails were not proof that Trump's own family members were concerned about the impact the comments would have and that the idea of them vetting his speeches was laughable.
Although the release of the emails puts us one step closer to understanding all of the nuanced issues at the heart of a business mogul running for the nation's highest office, we still do not know very much about how the previously mentioned undocumented and temporary laborers feel going to work every day for a brand run by a person who so ostensibly reviles them. If diners can perceive the comments that way, feel that, and refuse to eat at a Mexican restaurant before it is even built as a result, surely the Mexican workers themselves feel it, too.
[image via screengrab]
For more from Lindsey, follow her on Twitter.
Have a tip we should know? tips@mediaite.com