New Book Alleges That Voter Fraud Could Be Responsible For Election That Handed Senate Seat To Al Franken
Book Alleges Voter Fraud Could Be Responsible For Al Franken Win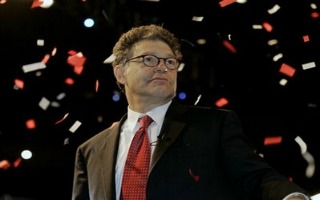 An upcoming book which examines the 2008 Minnesota Senate election in which Sen. Al Franken won a seat in the upper chamber of Congress by the narrowest of margins alleges that the election could have gone differently had it not been marred by voter fraud. In fact, in a race that Franken won by just 312 votes, the outcome could have been altered dramatically if 1,099 felons had not been allowed to cast their ballots.

RELATED: Al Franken Breaks Down And Cries On Senate Floor During Violence Against Women Act Speech
Who's Counting?, authored by Heritage Foundation fellow and former Bush Justice Department Official Hans von Spakovsky and senior editor of the American Spectator, John Fund, thoroughly examines the nation's closest Senate race in 2008 and finds a number of inconsistencies.
In the 2008 Minnesota Senate race, former Sen. Norm Coleman faced Al Franken and 2.9 million voters cast their ballots. The morning after Election Day, Coleman led Franken by 725 votes. But as lawyers descended on the North Star State and began the process of challenging and invalidating ballots, Coleman's lead was narrowed to just 206 votes. After several months, Franken was declare the winner with 312 ballots and was sworn into office in the summer of 2009.
A group called Minnesota Majority first noticed the inconsistencies when they crosschecked the names of voters who cast ballots in that race with convicted felons and found 1,099 ineligible voters who showed up at Minnesota's polls in 2008.
In Who's Counting?, the authors detail the convictions of 177 people who were accused of voter fraud and the 66 others who are awaiting trial. Byron York, reviewing the book for the Washington Examiner, writes that it is likely that Minnesota's high standards required to prove voter fraud limit the number of possible convictions.
"The numbers aren't greater," the authors say, "because the standard for convicting someone of voter fraud in Minnesota is that they must have been both ineligible, and 'knowingly' voted unlawfully."
Along with ineligible voters, the book outlines how Minnesota Majority and other groups found a number of other inconsistencies which could have changed the outcome of that extremely close election.
> >Follow Noah Rothman (@Noah_C_Rothman) on Twitter
Have a tip we should know? [email protected]