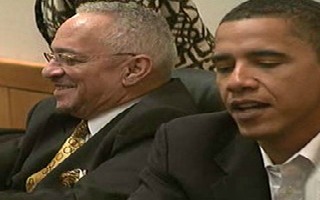 Former New York Times Magazine editor Edward Klein's upcoming unauthorized biography of President Barack Obama made news last week when it alleged that President Bill Clinton called him an "amateur" and urged Sec. Hilary Clinton to challenge Obama in the 2012 Democratic presidential primaries. On Sunday, another revelation in the book was released in which Rev. Jeremiah Wright claims that the Obama campaign offered him $150,000 to maintain a low profile during the 2008 election.

RELATED: Book Alleges Bill Clinton Called Obama An 'Amateur,' 'Incompetent' And Begged Hillary To Run Again
On Sunday, the New York Post published a column by Klein in which he reveals a conversation that Wright where the pastor claims the campaign tried to keep him silent during the 2008 presidential campaign.
"Who sent the e-mail?" I asked Wright.

"It was from one of Barack's closest friends."

"He offered you money?"

"Not directly," Wright said. "He sent the offer to one of the members of the church, who sent it to me."

"How much money did he offer you?"

"One hundred and fifty thousand dollars," Wright said.
Wright claims that then-Senator Obama paid a visit to Wright in which he urged Wright to cancel his speaking engagements that year.
"And one of the first things Barack said was, 'I really wish you wouldn't do any more public speaking until after the November election.' He knew I had some speaking engagements lined up, and he said, 'I wish you wouldn't speak. It's gonna hurt the campaign if you do that.'

"And what did you say?" I asked. "I said, 'I don't see it that way. And anyway, how am I supposed to support my family?' And he said, 'Well, I wish you wouldn't speak in public. The press is gonna eat you alive.'

"Barack said, 'I'm sorry you don't see it the way I do. Do you know what your problem is?' And I said, 'No, what's my problem?' And he said, 'You have to tell the truth.' I said, 'That's a good problem to have. That's a good problem for all preachers to have. That's why I could never be a politician.'
The White House and a spokesperson for President Clinton have said that revelations in Klein's book are false. Clinton's spokesperson called Klein a "known liar."
h/t The New York Post via The Blaze
Have a tip we should know? tips@mediaite.com