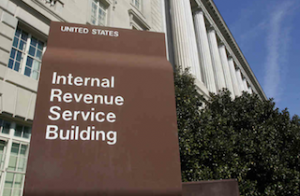 NBC News has obtained letters showing that the additional scrutiny of conservative groups did not just originate from the IRS office in Cincinnati at the center of the targeting scandal, but that higher-ups at the tax-collecting agency also requested the additional information, including the now-suspended Lois Lerner, who pled the fifth before Congress last week.
An attorney representing a number of groups targeted by the IRS provided NBC with letters showing that requests for information were made by IRS offices outside of Cincinnati, "including IRS headquarters in Washington, and the signatures of IRS officials higher up the chain." NBC does note that Lerner's signature requesting additional information for one tea party group "appeared to be a stamp rather than an actual signature."
RELATED: Alan Colmes And James Pinkerton Battle: Why Are Soros-Funded Liberal Media Outlets Defending The IRS?
Jay Sekulow, the attorney who provided the letters to NBC, believes that this was a "coordinated and deliberate attempt to silence, or at least stifle conservative organizations."
However, two employees of the IRS Cincinnati office spoke to NBC News, and while they claim that the extra scrutiny of tea party groups was not just the work of a few low-level employees, they do not believe there was any partisan motivation behind the targeting.
"We're outstanding public servants, dedicated to our craft and to the public we serve," said one current IRS Cincinnati employee contacted at home over the weekend, who agreed to speak to NBC News on the condition of anonymity. "To suggest that we're 'rogue' should be considered slander."

Asked about the motivations for the targeting, the employee said, "I trust my management team."
One tea party group leader claims she was told that the delay in getting a decision on her group's tax-exempt status was because "they were taking their orders from Washington."
You can read NBC News' full report here.
—–
Follow Josh Feldman on Twitter: @feldmaniac
Have a tip we should know? tips@mediaite.com
Josh Feldman - Senior Editor